GRIHA
NEWSLETTER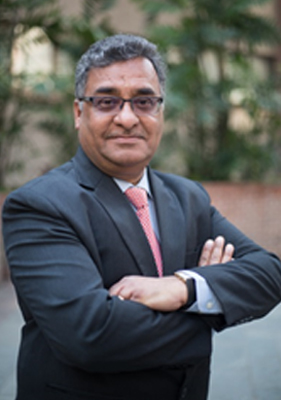 Mr. Sanjay Seth, CEO GRIHA Council
Over the years, GRIHA Council has been hosting its Annual Summits to deliberate on prominent issues in association with nationally and internationally reputed entities such as Ministry of Housing & Urban Affairs (MoHUA); Ministry of New and Renewable Energy (MNRE); Bureau of Energy Efficiency (BEE); UNSW Sydney, Australia; Australian High Commission; Royal Danish Embassy; Deutsche Gesellschaft für Internationale Zusammenarbeit (GIZ). This month, we initiate preparations for the GRIHA Event 2021.

To combat the onslaught of the economy by COVID-19, countries are developing and implementing a range of expansionary fiscal and monetary measures. Someconcerns have become pertinent to this process of economic recovery, the primary being how the economic stimulus can be made "green". Pursuant to this, the theme for this year's event is "Restoring a Green Economy" with the aim that it will generate a dialogue about taking decisive steps to go beyond the conventional GDP and measure it inclusive of green development.

I am equally pleased to share that with the pandemic easing and the vaccination drive gaining momentum, we have not only returned to our workplace albeit in a staggered manner, but are soon going to move into our new premises at the India Habitat Centre, Lodhi Road, New Delhi. I look forward to welcoming you to the new office of GRIHA Council.
| | |
| --- | --- |
| | Inviting articles for the 8th edition of Shashwat-Let Nature Be, GRIHA Annual Magazine |
The Annual Magazine of GRIHA Council "Shashwat - Let Nature Be", is released every year. It also has an ISSN number for its online version- (ISSN - 2581-9291). Its previous issues had themes such as, 'Sustainable is Affordable', 'Fostering Partnerships for Sustainable Habitats', 'Approach to Integrated Sustainability' and 'Rejuvenating Resilient Habitats'. It encompasses articles, interviews, testimonials and blogs from experts with diverse backgrounds who have significantly contributed to new areas of research in the domain of Sustainability.

This year, GRIHA Council extends an invitation to you for contributing an article in the 8th edition of the magazine, with the theme - 'Restoring Green Economy'. A green economy is a resource-efficient, low carbon and socially inclusive. Within this type of economy, income growth and employment would be driven by both public and private investments that reduce carbon emissions, enhance resource efficiency and prevent the loss of biodiversity and ecosystem services.

The article must be submitted through email to info@grihaindia.org marking a copy to gauri.mathur@grihaindia.org with the subject line: Article for Shashwat, latest by 16th of August, 2021.

| | |
| --- | --- |
| | GRIHA Certified Professional Examination on V. 2019 |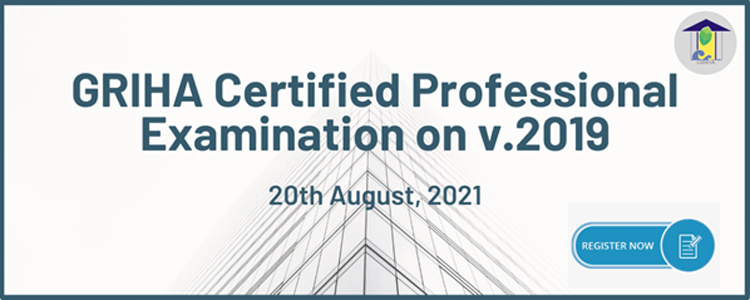 Registrations for the GRIHA Certified Professional Examination on version 2019 scheduled on 20th August,2021 are now open. More details such eligibility, examination format, validity and calendar for the year 2021-22 can be referred on https://www.grihaindia.org/griha-community.

Register Now : http://events.teriin.org/terievent/registration/regstep1/147

| | |
| --- | --- |
| | TERI-IWA Water Sustainability Awards |
The Energy and Resources Institute (TERI) in association with the International Water Association (IWA), has constituted 'The TERI-IWA Water Sustainability Awards' to facilitate the efforts contributing to the achievement of Sustainable Development Goals (UN-SDG 6).

United Nation's Sustainable Development Goals recognize water as the key element of sustainable development by setting a dedicated global goal for water. Goal 6 of SDGs, further specifies targets to be achieved by 2030. In India, water acts as a backbone of livelihood to more than 70% of the population engaged in the agriculture sector. Also, approximately 10-15% of the population is engaged in industries directly dependent on water such as textile, leather, food processing, etc. Water, therefore, has a multitude of linkages with the country's economic health. Furthermore, through its role in food security, energy security, and health, water ensures the right to life for all citizens.

Hence, it is necessary that all the stakeholders equally share the responsibility of water management, water use efficiency, and water conservation, to facilitate the achievement of water security for all. Encouragement and recognition would be an effective way to build the culture of water resource protection and conservation.

| | |
| --- | --- |
| | SVAGRIHA Four Star Rating awarded to Construction of Shopping Complex for Mahalaxmi Jagdamba Mata Mandir |
| | |
| --- | --- |
| | GRIHA Four Star Rating awarded to U. N. Mehta Institute of Cardiology & Research Centre (Paediatric Cardiac Hospital Building) |
| | |
| --- | --- |
| | GRIHA Three Star Provisional Rating awarded to Construction of New Income Tax Building |
| | |
| --- | --- |
| | New products have been enlisted in the GRIHA product catalogue |
10-Yo Makes Eco-Friendly Paper From Peels of Onion, Garlic & Potatoes
An eco-activist and a Class 6 student of Vibgyor High BTM, Bengaluru, Manya spends her time campaigning for nature conservation. Having grown up among the greenery of her grandmother's house, Manya has always possessed a love for nature. As she saw the mounting problem of garbage in the city, she knew she had to do something about it.

Ever since, she started hosting walkathons for children, created a blog to sensitise people about environment conservation, and has even authored five books on the theme of nature. Recently, Manya hosted a clean-up drive at Markonahalli Dam & Varca beach to combat the problem of incessant garbage pollution. She was also recognised by India Book of Records for being the youngest to make animated short films to spread awareness in 2020.

During the course of her summer holidays, Manya came up with a unique method to save tonnes of trees at zero cost. Using this method, just 10 onion peels can be used to make 2-3 A4 size papers.

| | |
| --- | --- |
| | The GRIHA Trophy at the 63rd Annual NASA Convention (Virtual event) on 22nd March 2021 |
The GRIHA Trophy architectural design competition is organized every year in collaboration with NASA. This year 2020-21, the Trophy brief required the student to design a sustainable affordable housing for EWS group. The design for a EWS dwelling typically comprises an all-weather single unit or a unit in a multi-storeyed super structure having a carpet area of up to 30 square meters per dwelling unit. The site is located in New Delhi.

Total 25 colleges from all over India submitted their entries for the competition. Out of these 10 entries were shortlisted for Jury which was conducted on 22nd March, 2021. During the jury, students presented innovative design solutions for affordable housing. The designs demonstrated planning strategies as well as sustainability solutions stressing on low impact strategies. These strategies were substantiated with wind and energy analysis to inform the form and function of spaces. Student teams incorporated the various parameters of sustainability such as waste, water management, material selection and occupant comfort into their designs as well.

The winners of GRIHA Trophy was announced on 04th July. Indian Education society's college of Architecture, Mumbai was the winner, followed by two special mentions TKM College of Engineering, Kollam, Kerala and M.N.I.T. (Deemed University), Jaipur

Copyright © 2021 GRIHA Council
GRIHA Council, 1st Floor, A - 260, Defence colony, New Delhi, 110024 (Ph : 011 4644 4500)
If you do not wish to receive this newsletter Click here