GRIHA
NEWSLETTER
| | |
| --- | --- |
| | Inauguration of "Venu Kutir"     |
It is a 240 sq. ft. cottage inspired by "Venu Kutir"is a 240 sq. ft. cottage inspired by the form of a bird's nest. It was inaugurated by Shri Suresh Prabhu, Hon'ble Member of Parliament, Rajya Sabha on December 16, 2019 (Monday) at 15:30 hours at IHC. The cottage has been designed to create a comfortable living space using one of the most sustainable materials on earth, 'Bamboo' and is meant primarily for the hospitality industry where speed of construction, aesthetics, form, sustainability of structures and responsible tourism are the new buzz words in the spirit of 'fun with responsibility'.
| | |
| --- | --- |
| | Curtain Raiser and GRIHA for Existing Building Rating Awards Ceremony and Felicitation |
A stellar event to mark the inauguration of the 11th GRIHA Summit 2019, with the theme "Approach to Integrated Sustainability" was organized on December 16, 2019, at The Claridges Hotel, New Delhi. The welcome address was delivered by Dr Ajay Mathur, President, GRIHA Council and Director General, TERI and Prof Ian Jacobs, President and Vice Chancellor, UNSW Sydney, followed by the keynote address by H. E Ms Harinder Sidhu, Australian High Commissioner to India. In presence of the esteemed dignitaries , projects were awarded under the GRIHA EB (Existing Building) variant, followed by the vote of thanks delivered by Mr Sanjay Seth, CEO, GRIHA Council and Senior Director, TERI.
GRIHA Council signs MoU with 'National Real Estate Development Council' and 'First Construction Council'


MoU with Mr. Pratap Padode Founder & Executive
Director for First Construction council


MoU with Brig. (Retd.) R R Singh, Director General, NAREDCO
Launch of the GRIHA rating- Version 2019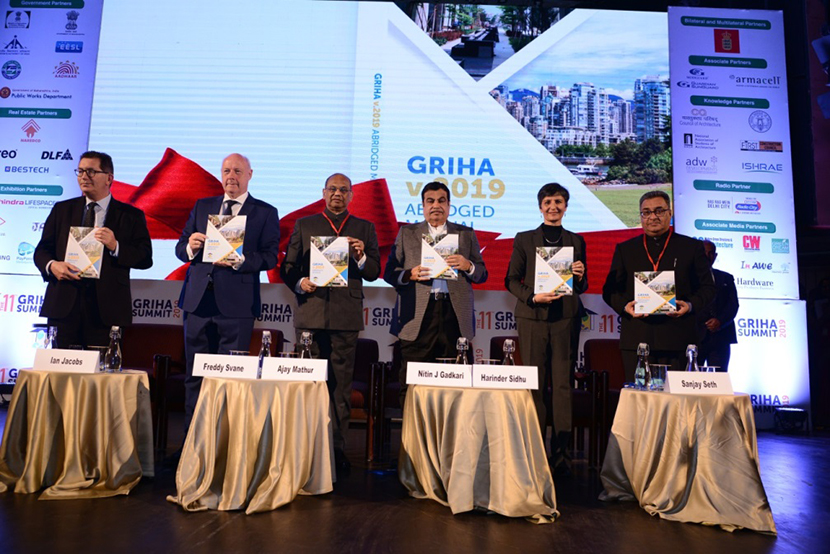 GRIHA Version-2019 rating was launched on December 17, 2019 by Shri. Nitin Jairam Gadkari, Hon'ble Minister for Road Transport & Highways and MSMEs, Government of India, Mr. Freddy Svane, Ambassador of Denmark to India, Embassy of Denmark, Her Excellency Ms. Harinder Sidhu, Australian High Commissioner to India, Professor Ian Jacobs, President and Vice Chancellor, UNSW Sydney, Australia, Dr Ajay Mathur, President, GRIHA Council & Director General, TERI and Mr Sanjay Seth, CEO, GRIHA Council & Senior Director – Sustainable Habitat Programme, TERI. The new version of the rating has technical revisions with an introduction to LCC (Life cycle costing) and LCA (Life cycle assessment) and WPI (Water Performance Index) concepts. The requirements of the rating is now strengthened for 7 broad typologies (Residential, Institutional, retail, commercial, Healthcare, airports and hospitality). The rating is designed for all climatic zones including cold and incorporates regional variations as well with climatic resilience aspects.
Click here to download a copy of the GRIHA V.2019 abridged manual
Click here to submit your feedback on the GRIHA V.2019 abridged manual
Inaugural Session and GRIHA Rating Awards Ceremony and Felicitation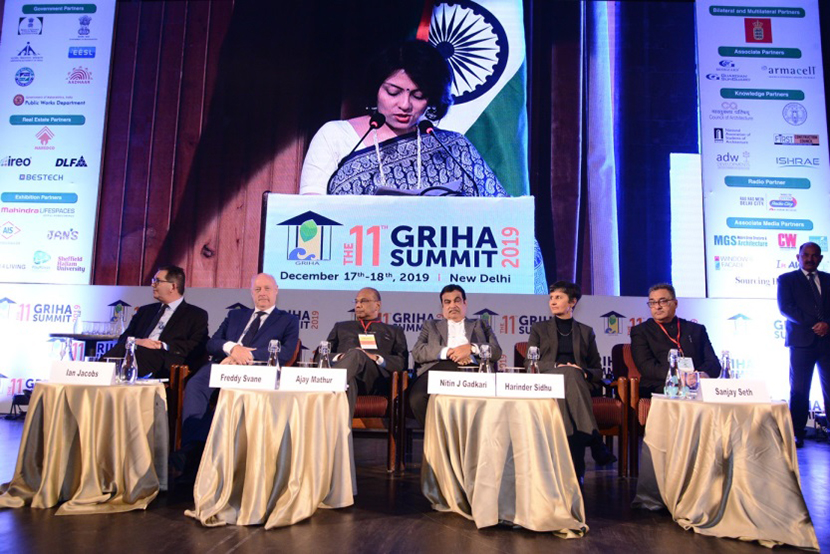 The inaugural session, hosted by the GRIHA Council and TERI in association with UNSW Sydney, was held on December 17, 2019 at India Habitat Center, New Delhi. The grand event was marked by the presence of honourable dignitaries Shri. Nitin Jairam Gadkari, Hon'ble Minister for Road Transport & Highways and MSMEs, GoI, His Excellency Mr. Freddy Svane, Ambassador of Denmark to India, Embassy of Denmark and Her Excellency Ms. Harinder Sidhu, Australian High Commissioner to India. In the spirit of the inaugural theme, Dr Ajay Mathur, President, GRIHA Council & Director General, TERI and Mr Sanjay Seth, CEO, GRIHA Council & Senior Director – Sustainable Habitat Programme, TERI along with Professor Ian Jacobs, President and Vice Chancellor, UNSW Sydney, Australia extended their gratitude to the eminent guests for their presence, by lighting the lamp of knowledge. In presence of the esteemed dignitaries, the final rating was awarded to GRIHA certified projects
Plenary and Thematic Sessions
The 11th GRIHA Summit 2019, GRIHA's flagship event was successfully conducted with eminent speakers, GRIHA's partners, development team and guests gathered on the national platform to pave the way for a sustainable built environment. The collective ideas and shared knowledge will be taken on board by GRIHA with great gusto in an endeavour to continually grow and outperform ourselves.

Plenary Session 1: Approach to Integrated Sustainability This session intended to bring forth renowned experts from diverse disciplines and multiple sectors to debate on challenges posed by urbanization and possible integrated solutions.

Plenary Session 2: Energy Challenge This session took an integrated approach to the energy challenge while discussing the issues of energy access, kind of technologies, investments and infrastructure required to power India's fast growing cities; off-setting the increased energy consumption by efficient design of the built environment.

Plenary Session 3: Water Challenge The session aimed to take an integrated approach to the water challenge and discussed about the technology, infrastructure and investments required to provide safe and accessible water; implications of the water crisis on health, food security and economic growth; and appropriate design of urban spaces for efficient usage of water resources.

Plenary Session 4: The Waste Challenge This session facilitated dialogue around waste up cycling strategies for value addition and minimizing waste disposal into landfills. The panel discussed the challenges, solutions, efforts taken towards solid waste management at the source.

Plenary Session 5: The Governance Challenge This session deliberated on developing a governance framework which stimulates multiple sector collaborations and public-private partnerships with mutual benefits, to promote capacity building and entrepreneurship, and also nurture community engagement.

Thematic Track 1 – Changing Consumer Behavior This session aimed to bring about the various stakeholders to deliberate on the initiatives which should be adopted to bring about a change in the behavior of consumers through the process of legislation, marketing and education thereby relieving the stress on the existing resources.

Thematic Track 2 – Women in sustainability The session celebrated the contributions of women in the realm of sustainable development. A true sustainably developing nation would be one that focuses on gender equality, balanced economic growth, a high level of education along with social progress, all aiming towards protection and enhancing the quality of the environment.

Thematic Track 3 – Vernacular Architecture: Reconciling with the past This session brought together domain experts who have reinterpreted vernacular architecture to create contextual solutions in the current built environment.

Thematic track 4 – Reducing the global carbon footprint This session deliberated requisite measures and policy framework for sustainable growth and informed decision making aimed at reducing global carbon emissions and climate change.

Thematic track 5– Sustainable Low Impact Materials This session brought forth experts associated with the construction industry to deliberate on the building materials circularity, technological innovations and policy interventions required to mainstream the low impact materials in the construction industry to achieve resource recovery and create a closed loop.

Thematic track 6– GWI Hackathon This session presented a suite of possible solutions for scalable and sustainable urban food production and distribution networks. The solutions were generated through collaboration between students at UNSW Sydney and IIT Ropar.

Thematic Track 7 – Social Aspect of Sustainability This session focused on the models of businesses, policies, action plans, and so on which uplift the social aspects at the same time cater to the cause of sustainability.

Thematic track 8 – Sustainability for Schools: Dream or Reality This session, hence was an effort to demonstrate how education acts as an effective tool to transform traditional learning to learning sustainability. It will strive to familiarize the participants with the convergence of the three major sectors i.e. knowledge – infrastructure – learners' well-being while presenting education as a remedy to address issues like energy efficiency, water quality and conservation, students' well-being; sustainable transportation; sustainable consumption and waste management thereby promoting sustainable development.

Thematic track 9- Sustainability in the Clothing Industry This session aimed to bring forth the experts to deliberate on the various challenges being faced by the clothing industry, and their strategies for enhancing the sustainability of the sector and policy level interventions required to cater to the issues prevailing in the fashion industry.

Thematic track 10 – Sustainability in Water Supply This session explored multiple stakeholders with various viewpoints in order to determine how the water resources as well as the increased consumption can be effectively managed.

Thematic Track 11 – Switching to Cleaner Fuels This session focused on the importance of future driven energy solutions which need to be accelerated through the development of effective policies, private-sector actions and public-private cooperation.

Thematic track 12- Air pollution - A global menace The present session provided a platform to various stakeholders working towards the mitigation of the challenges put forth by degraded air quality and discussing the possible solutions to cater to this problem
| | |
| --- | --- |
| | Curtain Raiser and GRIHA for Existing Building Rating Awards Ceremony and Felicitation |
Valedictory session was held on the second day of summit, December 18, 2019. Mr Sanjay Seth, CEO, GRIHA Council and Senior Director, TERI along with other dignitaries Mr. Anuj Aggarwal, Member (HR), AAI, H. E. Mr. Freddy Svane, Ambassador, Royal Danish Embassy to India, Prof. Helen Lochhead, Dean, UNSW Faculty of Built Environment, UNSW Sydney, Australia and Dr. Ajay Mathur, President, GRIHA Council and Director General, The Energy and Resources Institute concluded the session by giving vote of thanks to our guest, esteem speakers, partners, sponsors and stakeholders. The session concluded by acknowledging the efforts of the projects that have pushed themselves beyond their boundaries to achieve sustainability and presented them with exemplary performance award
---
Copyright © 2019 GRIHA Council
GRIHA Council, 1st Floor, A - 260, Defence colony, New Delhi, 110024 (Ph : 011 4644 4500)
If you do not wish to receive this newsletter Click here