GRIHA
NEWSLETTER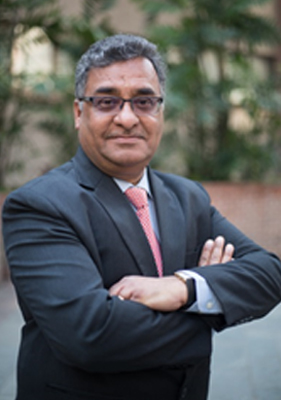 Mr. Sanjay Seth, CEO GRIHA Council
The urgency of the global warming crisis was emphasised by the recent report "Climate Change 2021: The Physical Science Basis" by the Intergovernmental Panel on Climate Change (IPCC) which reiterates that human activity is the cause of climate change and we need to take immediate steps to reduce our greenhouse gas (GHG) emissions. The primary requisite now is to ensure preparedness and action for the sustenance of our planet through carbon negative interventions.

Green recovery, environmental resilience and sustainability at large are at the forefront of national discourse. I am pleased to announce that GRIHA Council will be hosting "The GRIHA Event" on 10th December 2021 with the theme "Restoring Green Economy". I am also pleased to share that we have successfully conducted our first GRIHA Consultants Training Programme. With the objective of understanding the requisite documentation for each appraisal in each criterion for the GRIHA V2015 rating, "The DOs and DON'Ts of GRIHA V2015 Documentation" programme was organized from 22nd July 2021 to 6th August 2021. It was attended by participants from various backgrounds which included architects, engineers, academicians, students, government officials and others who have conveyed their feedback about the extreme relevance of the programme and that it had proved to be an interesting & educative learning experience.

This month was of great significance to the GRIHA Council as we have now established our new office at the India Habitat Centre, Lodhi Road, New Delhi. The smooth transition to the new office was ably assisted by the entire team to whom I extend my heartfelt appreciation. It is with your support that we are able to complete this shift swiftly and efficiently. I look forward to having a great working experience with you all here.
| | |
| --- | --- |
| | GRIHA Council at the India Habitat Centre, Lodhi Road, New Delhi |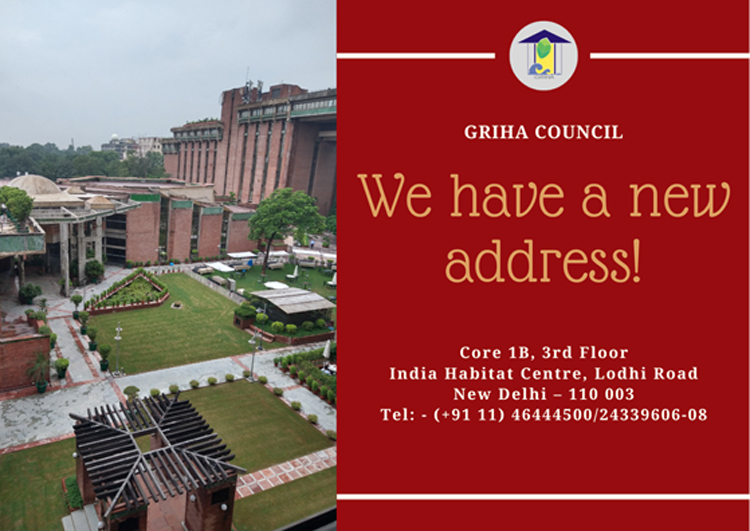 We are pleased to announced that GRIHA Council has moved to India Habitat Centre, Lodhi Road, New Delhi. We look forward to welcoming you to the new office of GRIHA Council.
| | |
| --- | --- |
| | Save the Date - The GRIHA Event 2021 |
| | |
| --- | --- |
| | GRIHA Certified Professional Examination on V. 2019 |
| | |
| --- | --- |
| | SVA GRIHA Training Programme |
| | |
| --- | --- |
| | GRIHA Three Star Rating awarded to Construction of Super Specialty Block at Govt. Medical College, Patiala (Punjab) under PMSSY-III |
| | |
| --- | --- |
| | GRIHA Three Star Provisional Rating awarded to Raheja Vistas T12 T13 |
| | |
| --- | --- |
| | New products have been enlisted in the GRIHA product catalogue |
IPCC Report 2021: Climate change is very real


Several of Bihar's 38 districts are flood-hit — people have lost lives, homes continue to get damaged, and countless agricultural fields have been inundated. In Africa, heavy rains ravaged the Democratic Republic of Congo (DRC), Uganda, and Ethiopia. After being hit by a dual disaster — an earthquake and hurricane Grace — Haiti's health system is severely strained, as are the rescue teams still hunting for survivors. In the U.S., a total of 41,122 wildfires have burned more than 4.59 million acres. One might think these disasters have been recorded over a long period, but unfortunately these are just a fraction of many natural calamities reported in one week of August alone. Besides, all this is occurring when the world is already grappling with a pandemic. These are numbing data, as numbing as the latest Intergovernmental Panel on Climate Change (IPCC)'s Sixth Assessment Report.



| | |
| --- | --- |
| | Training Programme for Consultants on the Dos and Don'ts of GRIHA V.2015 Documentation |
Copyright © 2021 GRIHA Council
GRIHA Council, Core1B, 3rd Floor, India Habitat Centre, Lodhi Road, New Delhi - 110003
Tel: - (+91 11) 46444500/24339606-08
If you do not wish to receive this newsletter Click here