GRIHA
NEWSLETTER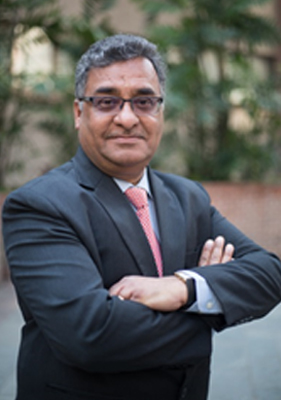 Mr. Sanjay Seth, CEO GRIHA Council
As we come to the close of the financial year 2020-21, it gives me great pleasure to announce that despite the pandemic, GRIHA Council is closing the year on a positive note, having met and exceeded the goals we had set for ourselves. Now, we look forward to embracing the coming year with the launch of multiple upgraded rating variants and enhanced online offerings intended to ensure that green building knowledge is available to students and professionals across the length and breadth of the country.

Although GRIHA v2019 is now up and running, we have also decided to continue with registrations for v2015 by popular demand, and we intend to have both variants available in parallel until such time that market confidence in the upgraded GRIHA requirements allows a complete shift to v2019.

In the coming days, we at GRIHA are also eagerly looking forward to the GRIHA Consultant's Meet. As we move closer to the year 2030, we must lay emphasis on collaborating and working together towards knowledge exchange, sharing of ideas and strengthening research at a global level. In the time that has elapsed since the last such event, GRIHA Council has achieved several key milestones and fostered partnerships with multiple stakeholders, both national and international. With the upcoming meet, we look forward to working toward continued growth and greater impact.
| | |
| --- | --- |
| | The Union Minister for Health & Family Welfare, Science & Technology and Earth Sciences, Dr. Harsh Vardhan inaugurated GRIHA rated building |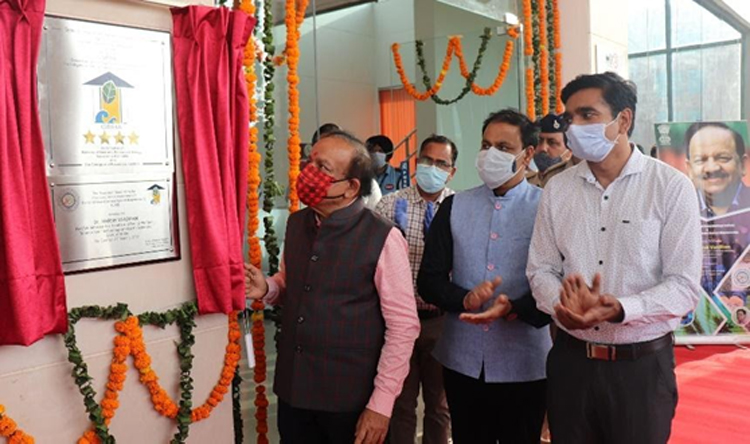 The Union Minister for Health & Family Welfare, Science & Technology and Earth Sciences, Dr. Harsh Vardhan unveiling the "Four Star" rating under GRIHA (Green Rating for Integrated Habitat Assessment) at Centre of Innovative and Applied Bioprocessing (CIAB) in Mohali, Punjab.

Later in the day, Union Minister Dr Harsh Vardhan inaugurated the "Advanced High Resolution Microscopy Facility" at the National Agri-food Biotechnology Institute (NABI) campus, Mohali, Punjab. He also unveiled a "Four Star" rating under GRIHA (Green Rating for Integrated Habitat Assessment) at Centre for Innovative and Applied Bioprocessing (CIAB) campus, Mohali, Punjab. In an interaction with Staff and students of NABI & CIAB, the minister said enthusiasm and zeal are important attributes of a scientist. He further said that research should not be confined to the laboratories and a new, proactive and innovative approach is needed to bring it to the masses.

| | |
| --- | --- |
| | 3rd GRIHA Consultant's Meet |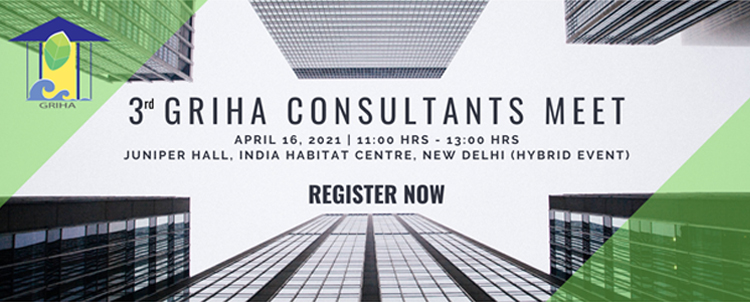 All progressive organizations look forward to learning from the rich experience of stakeholders and taking regular feedback on the initiatives being planned. The last consultants meet held on 1st October, 2019 by GRIHA Council was attended by 40 participants.

This time, the 3rd GRIHA Consultants meet will be held on 16th April, 2021 from 11:00 hrs - 13:00 hrs (online). The meet will provide a platform for GRIHA Council to brief the consultants on its past achievements as well as upcoming initiatives and for consultants to share their experience on the rating process and how it may be improved.

All consultants are encouraged to register and participate in the meet online to strengthen the green building movement in a collaborative. The joining link for the event will be shared with all registered consultants 1-2 days prior.

| | |
| --- | --- |
| | Registration open for GRIHA V.2015 and GRIHA V.2019 |
| | |
| --- | --- |
| | Green Industrial Incentives by Government of Tamil Nadu |
| | |
| --- | --- |
| | E-course on GRIHA Version 2019 |
| | |
| --- | --- |
| | GRIHA Five Star Final Rating awarded to ITC Mud Fort, Bengaluru |
| | |
| --- | --- |
| | New products have been enlisted in the GRIHA product catalogue |
Company name:Asian Granito India Ltd.
Product name:Vitrified tiles (Royal, Delux, Golden, Classic, Pearl, Light, Delux light, Delux dark, Opal, Tuffguard) and Ceramic tiles (Plain, Printed, Impression, Royal Plain, Golden print, Italian, Rustic, Tuffgaurd, Pocelanto, Satin Matt, Lustre)
Product typology:Flooring

Company name:Gujarat Guardian Limited
Product name:External glazing – SGU (Guardian® SunGuard® Solar Plus (Blue 27; Green 27; Grey 27; Neutral 27) and External glazing – DGU (Guardian® SunGuard® DS (Neutral 30; Green 30; Aquamarine 35; Green 40; Neutral 50)
Product typology:Fly-ash bricks/AAC Blocks

India's urban water crisis: Cities at risk of running out of water
By 2050, at least 30 Indian cities will face a grave water risk, according to the WWF. The problems range from poor management of water sources, contaminated supplies, leaky distribution networks and vast volumes of untreated wastewater being poured into India's rivers.

In the summer of 2019, Chennai's reservoirs ran dry, forcing the government to truck in 10 million litres of water a day. For a city that gets an average of 1,400 mm of rainfall a year, more than twice what London receives, this was unprecedented. And not just Chennai, cities across India have been facing acute water shortages due to massive population growth and rapid, unplanned urbanisation. A 2018 study published in Nature projected that by 2050, Jaipur would have the second-highest water deficit in the world, with Chennai at #20. A 2020 report by the World Wide Fund for Nature (WWF) projected that 30 Indian cities would face a 'grave water risk' by 2050 due to sharp increases in population.

| | |
| --- | --- |
| | One Day Awareness program on GRIHA for green buildings |
| | |
| --- | --- |
| | GRIHA NASA Trophy 2020-21 |
| | |
| --- | --- |
| | A MoU was signed between GRIHA Council and the IIFL Home Finance Ltd |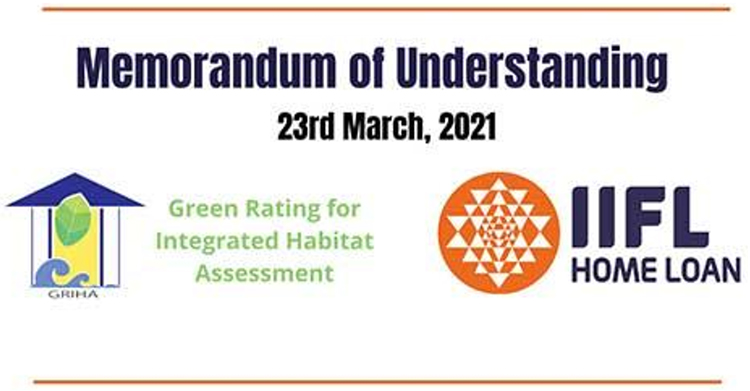 Mr. Monu Ratra, Chief Executive Officer & Executive Director, IIFL HFL and Mr. Sanjay Seth, Chief Executive Officer, GRIHA Council signed the MoU on behalf of both the organizations on March 23, 2021. Recognizing the significance of sustainable development of building infrastructure, both parties will work towards collaborative promotion and implementation of green building concepts and its evaluation using the Green Rating for Integrated Habitat Assessment (GRIHA) rating system pan India.

On the occasion, Mr. Monu Ratra, Chief Executive Officer & Executive Director, IIFL HFL expressed his delight on the newly forged partnership and was looking forward to working hand in hand with GRIHA Council to increase the footprint of GRIHA rated affordable housing projects in India.

This is the first time that GRIHA Council is being associated with an agency such as IIFL HFL, who provides home loans and mortgage loans enabling the construction and/or purchase of residential projects. This collaboration will be a transformative step towards scaling up the green affordable housing footprint as well as ensuring enhanced comforts to the end user.

| | |
| --- | --- |
| | Women's Day Celebration at GRIHA Council |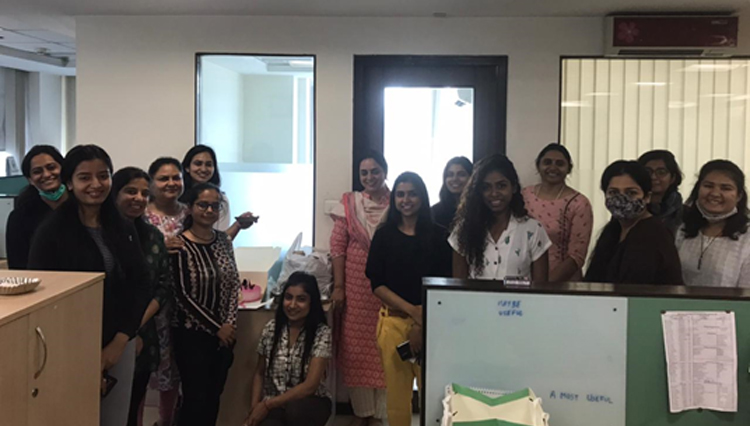 GRIHA celebrated Women's Day 2021 to commemorate the cultural, political, and socioeconomic achievements of women. GRIHA sets the precedent for women empowerment with women holding top positions in the organization and leading the team at large. The day was celebrated with much fanfare where both male and female employees came forth to express their opinions on gender equality and the role of women in personal and professional environments.

Copyright © 2019 GRIHA Council
GRIHA Council, 1st Floor, A - 260, Defence colony, New Delhi, 110024 (Ph : 011 4644 4500)
If you do not wish to receive this newsletter Click here