GRIHA
NEWSLETTER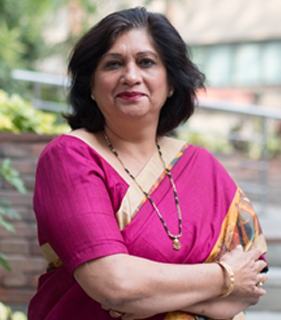 Dr. Vibha Dhawan, President GRIHA Council
As I step into my new role as the President of GRIHA Council, I would like to congratulate the team at GRIHA for the excellent work done thus far, especially in the face of the ongoing pandemic. In the past year, COVID-19 has caused widespread disruption across the globe with severe repercussions in terms of human health and economic activity. The lasting impact on economies and living standards will likely persist for the foreseeable future and it is therefore essential that we work together toward recovery and a resilient tomorrow.

GRIHA has been a catalyst for the widespread adoption of green development in India and is seen as an effective agent of change in addressing issues related to resource efficiency, protection of bio-diversity and the pressing need to reduce greenhouse gas emissions. It has evolved to evaluate resource efficiency in the design, construction & operations stages, catering to both new buildings and the existing built environment. Over the past year, despite the pandemic, GRIHA Council has been involved in multiple activities in its endeavours to promote the sustainability agenda beyond the administration of its rating systems. I acknowledge the unending support & trust of our valued partners and confidence they have placed in the GRIHA brand. It is without doubt that the progress made thus far has been possible owing to the continued commitment from a motivated team and the unwavering support of extraordinary individuals and organisations.

As we move towards the year 2021, I am certain that GRIHA Council will remain a frontrunner in promoting sustainability and resilience. Through its outreach programmes, GRIHA strives to spearhead the transition toward a more environment-friendly lifestyle and provide long term solutions that are resilient even in these challenging times.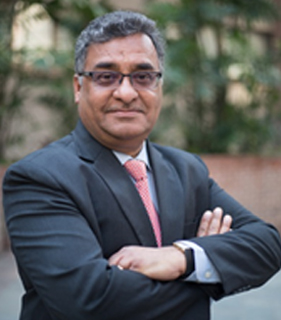 Mr. Sanjay Seth, CEO GRIHA Council
I would like to extend a warm welcome to Dr. Vibha Dhawan who has taken over the responsibilities of President, GRIHA Council consequent to the election of Dr. Ajay Mathur as Director General, International Solar Alliance (ISA). As Distinguished Fellow, TERI, Dr. Dhawan played an active role in policy development both at the state & national levels and has served as task force member on a number of committees. I am certain that GRIHA Council will grow from strength to strength under her capable guidance.

At the height of the lockdown due to the pandemic, we went through tough times both in terms of meeting our annual targets as well as maintaining a steady revenue stream. However, I am greatly satisfied to see the marked improvement on both the fronts consequent to the graded unlocking of operations which have helped us to bounce back and remain above board.

I am also pleased to inform you that in the past month, GRIHA Council has signed two MoUs; one with Confederation of Indian Micro, Small and Medium Enterprises (CIMSME) and another with Kerala Infrastructure Investment Fund Board (KIIFB). While CIMSME represents an industry body for micro, small and medium enterprises, KIIFB is constituted by the government of Kerala as a body corporate financial institution to finance upcoming infrastructure projects in the state. In terms of the MoU, KIIFB proposes to obtain GRIHA rating for projects of significance funded by it.

Besides, developing new protocols for our Standard Operating Procedures (SOP) for the GRIHA rating, as a new normal, we have also unveiled the GRIHA Learning Centre with the intent of enhancing training & capacity building. The e-learning platform provides greater flexibility to students & professionals to access the training modules at their own pace and from the comfort of their homes/offices without requiring physical presence.

I hope to see us emerge stronger in the financial year, beginning in April, 2021.
| | |
| --- | --- |
| | Biennial Update Report to the United Nations Framework Convention on Climate Change, by Ministry of Environment, Forest and Climate Change Government |
The third Biennial Update Report was submitted to the United Nations Framework Convention on Climate Change, by Ministry of Environment, Forest and Climate Change Government of India within which the mitigation actions were highlighted. In the report, "GRIHA" was given presence under the building sector and following was quoted:
"To recognize energy-efficient buildings, as well as to stimulate their large scale replication, India has developed its building-energy rating system GRIHA (Green Rating for Integrated Habitat Assessment), based on 34 criteria such as site planning, conservation and efficient utilization of resources. As on October 2020, India has 1,825 GRIHA registered projects with approximately 52.5 million sq. m of 'green' built-up area."

Read More
| | |
| --- | --- |
| | Green building incentives by Government of Union Territory of Jammu & Kashmir, for GRIHA projects only |
Notice is hereby given that Pre-Draft Uniform Building Code-2019 for Kashmir Division has been prepared by Town Planning Organisation, Kashmir on behalf of Housing & Urban Development department (HUDD). Following incentives has been provided for the GRIHA rated projects:

The applicant shall be awarded benefits of additional Floor Area Ratio (on plot area) for adopting either green norms specified in sub-Code (3) or by getting his building/ site/ project certified from Green Rating for Integrated Habitat Assessment (GRIHA)
Additional Floor Area Ratio (FAR) will be awarded as per the rating achieved by GRIHA Council:


| | | | | | |
| --- | --- | --- | --- | --- | --- |
| Additional FAR for all building uses (except plotted residential) | 3% | 6% | 9% | 12% | 15% |
| GRIHA rating | 1 star | 2 star | 3 star | 4 star | 5 star |
In case the building is certified from GRIHA, there is no requirement for issue environmental clearance
For More Details
| | |
| --- | --- |
| | 3rd GRIHA Consultant's Meet |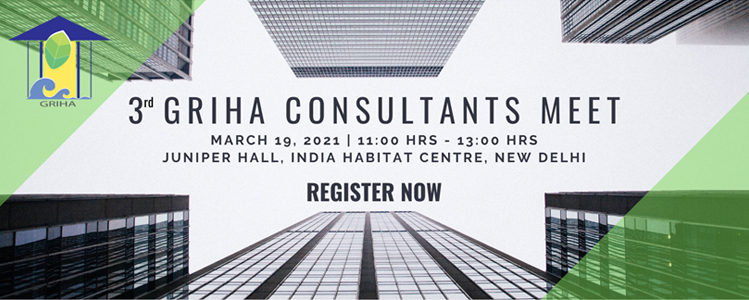 All progressive organizations look forward to learn from the rich experience of stakeholders and take feedback on the initiatives being planned. The last consultants meet held on 1st October, 2019 by GRIHA Council was attended by 40 participants.

Recently, the concept of global partnerships has gained prominence in sustainable development fora, most notably as a central element of the Sustainable Development Goal (SDG) 17, which is at the heart of the global United Nations (UN) development agenda for the period 2016 – 2030. As we move closer to 2030, the stress is on collaborating and working together towards knowledge exchange, sharing of ideas and solutions, strengthening research at a global level.

In the time that has progressed since the last consultants meet, GRIHA Council has achieved several key milestones and fostered partnerships with multiple International & National stakeholders.

Since the event will take place in a hybrid manner, the consultants outside of Delhi/NCR region can register and attend the meet online. Consultants outside Delhi/NCR region who have already registered will receive the joining link for the event 1-2 days prior.

Click here to Register
| | |
| --- | --- |
| | E-course on GRIHA Version 2019 |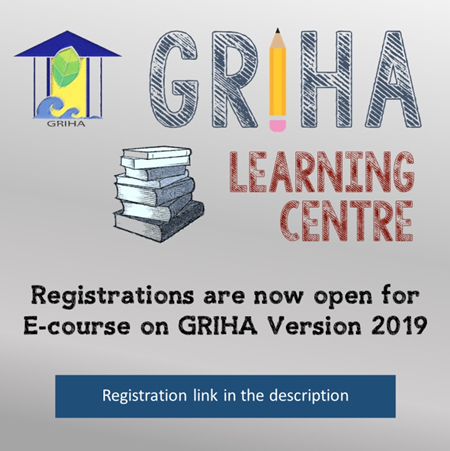 Our own team of professionals is hosting the course on GRIHA v.2019 and is sharing their first hand experiences while disseminating the knowledge on complex concepts of sustainability. The course will be elaborating on criteria requirements of the GRIHA v.2019 through interactive sessions and thought provoking quizzes.

For more details
| | |
| --- | --- |
| | Registration open for GRIHA V.2019 |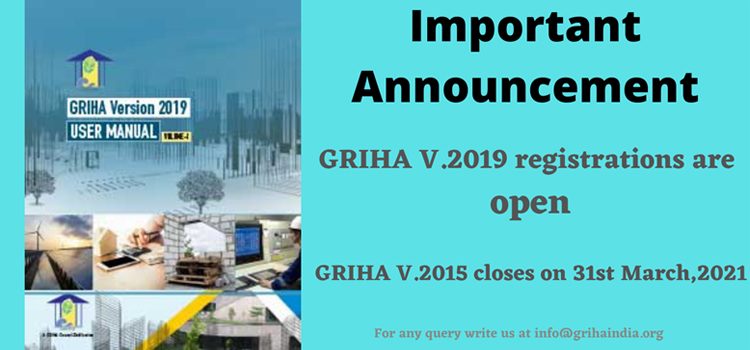 Today, buildings have evolved into a diverse array of typologies designed to meet the highly specific requirements of the people who live and work in them. Over time, with our growing technological skills, these buildings have also been increasingly designed and operated to place exorbitant demands on natural resources, such as land, water, and energy, to mention a few. Therefore, incorporation of sustainable practices in building design and operation is no longer a choice but a necessity for a sustainable future.

The GRIHA v.2015 has undergone an extensive revision to account for the ongoing advancements in the highly dynamic construction sector. This version (i.e. GRIHA v2019) integrates concepts like life cycle cost analysis, life cycle analysis, and water performance index to name a few. This version has taken into consideration the incorporation of user experience, market feedback, and enhanced ease of implementation and adoption.

For more details
| | |
| --- | --- |
| | New products have been enlisted in the GRIHA product catalogue |
Watch: Smog to Tiles? Mumbai Startup Re-purposes 30,000 Litres of Polluted Air
India has been recording an increase in PM 2.5 pollution since 2010. According to the World Air Quality Report, 14 of the world's top 20 most polluted cities are located in India with the building and infrastructure industry contributing 39 per cent of the total energy-related carbon emissions. With the intention of creating a commercial solution to curb carbon emission, Tejas Sidnal started Carbon Craft Design, a Mumbai based startup that is turning polluted air into carbon tiles.

Tejas was inspired by a company, Air Ink, that turns soot into ink, and began exploring how pollution can be converted into building materials. In May 2019, Carbon Craft Design launched its first carbon tile production. The manufacturing of the carbon tiles is a three-step process. First, carbon is collected from tire pyrolysis based factories, which is then processed at a facility and finally converted into tiles at a manufacturing unit located in Morbi, Gujarat. The entire process of making these tiles consumes one-fifth of the energy required to make vitrified tiles and reduces air pollution by 30,000 litres of carbon for each tile made.

| | |
| --- | --- |
| | MoU between GRIHA Council & CIMSME |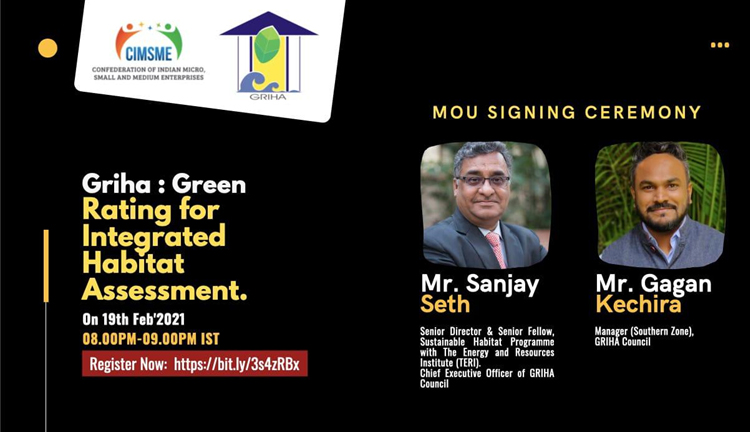 A Memorandum of Understanding was signed between GRIHA Council and the Confederation of Indian Micro Small and Medium Enterprises (CIMSME) on February 19, 2021 on a virtual platform. Mr Santhosh Ganesh - Founder, CIMSME and Mr Sanjay Seth - CEO, GRIHA Council signed the MoU on behalf of the organizations.

CIMSME & GRIHA Council share a common vision of promoting Sustainability in the built environment through energy efficiency, efficient building design & optimal use of resources. The organizations will work towards creating awareness on Green Buildings & GRIHA Ratings. Under the ambit of this MoU, GRIHA Training workshops will also be conducted to enable active dissemination of knowledge and skill necessary to design, construct and maintain a green building.

Read More
| | |
| --- | --- |
| | MoU between GRIHA Council & KIIFB |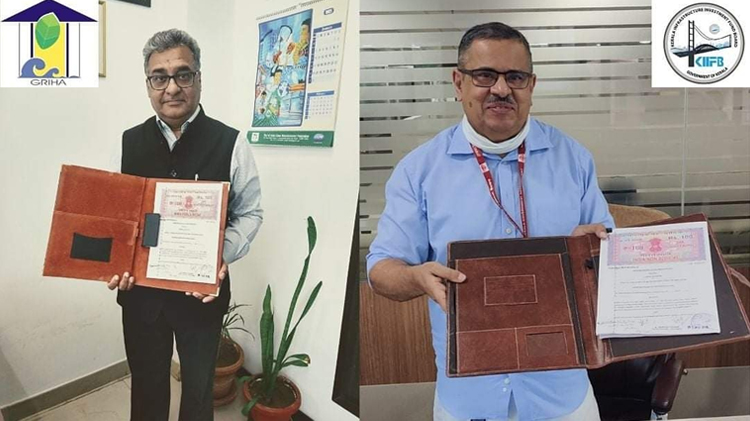 A Memorandum of Understanding was signed between GRIHA Council and the Kerala Infrastructure Investment Fund Board (KIIFB) on February 26, 2021 on a virtual platform.

Dr. K. M. Abraham – Chief Executive Officer, KIIFB and Mr. Sanjay Seth, Chief Executive Officer, GRIHA Council signed the MoU on behalf of both the organizations. Recognizing the significance of sustainable development of building infrastructure, both parties will work towards collaborative promotion and implementation of green building concepts and its evaluation using the Green Rating for Integrated Habitat Assessment (GRIHA) rating system in the state of Kerala.

This is the first time that GRIHA Council is being associated with an agency such as KIIFB, who mobilize and channel funds for facilitating planned and sustainable development of both physical and social infrastructure. This association will promote adoption of sustainable building materials and strategies to increase the green building footprint in the state of Kerala.

Read More
Copyright © 2019 GRIHA Council
GRIHA Council, 1st Floor, A - 260, Defence colony, New Delhi, 110024 (Ph : 011 4644 4500)
If you do not wish to receive this newsletter Click here