GRIHA
NEWSLETTER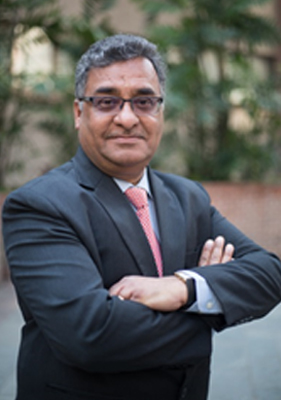 Mr. Sanjay Seth, CEO GRIHA Council
The year's most significant event, the 2021 United Nations Climate Change Conference, also known as COP26, is currently underway. Mitigating climate change is a collective responsibility which must be fulfilled by all countries with a meticulous and collaborative approach. While production of renewable energy, advancement in technology, changes in policy, lifestyle and industrial practices are the way to go, adequate financial aid is of paramount importance for ground-breaking innovations and large-scale impact. The world needs a comprehensive and global green financing strategy to meet 'net zero emissions' targets within the next few decades.

To deliberate upon the same, "The GRIHA Event" is being held on the 10th of December, 2021. The theme is "Restoring Green Economy".

I am also pleased to announce that after a year-long hiatus in physical trainings owing to the pandemic, GRIHA Council is now conducting its first in-person 3 day training on v.2019 from 15th-17th December, 2021 in New Delhi. We look forward to conducting an intensive and interactive session with all our participants. Our community is also growing, and to help each one of you sustainability stalwarts connect with GRIHA, we have recently launched our GRIHA APEX (Associated Professionals and Environmental Experts) Membership. I invite you to register for the same and join the league of 'Developers of a Green Nation'.
| | |
| --- | --- |
| | The GRIHA Event 2021, 10th December 2021 |
| | |
| --- | --- |
| | Launch of GRIHA Apex membership |
| | |
| --- | --- |
| | GRIHA Certified Professional Examination on V. 2019 in the upcoming months |
| Month | Date |
| --- | --- |
| December | 17.12.2021 |
| January | 21.01.2022 |
| | |
| --- | --- |
| | 3-Day GRIHA Version 2019 Training Programme at New Delhi |
| | |
| --- | --- |
| | GRIHA Four Star Rating awarded to AIPL Joy Street, Gurugram |
| | |
| --- | --- |
| | GRIHA Three Star Provisional Rating awarded to Type IV Non- Faculty Apartments, NITK Surathkal |
| | |
| --- | --- |
| | New products have been enlisted in the GRIHA product catalogue |
Company name: Bellissimo/ PANARIAGROUP INDIA INDUSTRIE CERAMICHE PVT LTD
Product name: Calacatta Vitrified Tiles, Concrete Texture Vitrified Tiles, Marble Stone Vitrified Tiles, Marfil Vitrified Tiles, Maxi Vitrified Tiles, Noble Marble Vitrified Tiles, Onyx Vitrified Tiles, Borealis Vitrified Tiles
Product typology: Flooring

Company name: Kingspan
Product name: Mineral Wool Panel For Roof Application, Mineral Wool Panel For Wall Application, PIR Panel For Roof Application, PIR Panel For Wall Application, PUF Panel For Roof Application, PUF Panel For Wall Application
Product typology: Insulation

| | |
| --- | --- |
| | Global Sustainability Development Summit 2021 |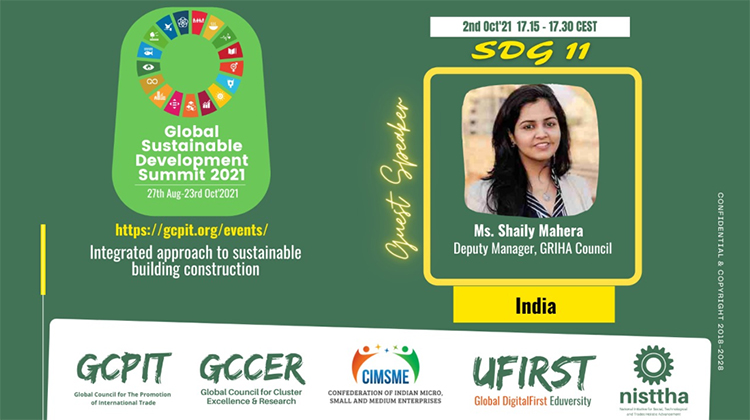 Global Sustainability Development Summit 2021 was organized by Global Council for the Promotion of International Trade (GCPIT) from 27 th August and was concluded on 23 rd October 2021. The agenda of the summit was to draw focus on business examples and good practice initiatives relevant to MSMEs and sustainability. Eminent speakers from across the world presented their ideas on ways in which MSMEs can contribute towards achieving the 17 Sustainable Development Goals (SDGs) rolled out by the United Nations to strengthen the three pillars of sustainability.

Ar. Shaily Mahera, Deputy Manager, GRIHA Council presented on SDG 11- Make cities and human settlements inclusive, safe, resilient and sustainable. The presentation was intended to communicate various ways in which GRIHA rating and MSMEs could enable building construction industry to reduce its carbon emissions and thereby contribute towards SDGs.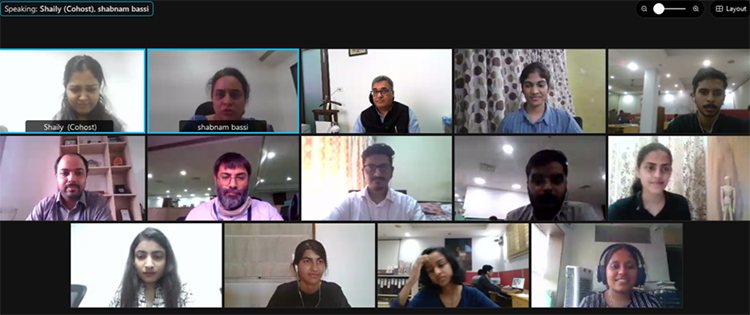 GRIHA Council organized a virtual felicitation ceremony of GRIHA Trophy at the 63rd Annual NASA Convention on 5th October, 2021 from 11 am to 1 pm. The GRIHA Trophy architectural design competition was launched in 2013-14 and conducted successfully once again this year in 2020-21. In the past eight years, the GRIHA NASA trophy has been organized in multiple cities such as Bengaluru, Vagamon, Jaipur, Surat, Chennai and Hyderabad with more than 5000 students' participation from various colleges across the country. Each year, unique design briefs are provided to allow students the opportunity to push the limits of their creativity and showcase their skills in designing projects of varying scale and typologies, centric to the concept of sustainability.

This year, the 63 rd Annual NASA Convention was organized virtually. The brief for the same included the designing of an affordable housing development for EWS group, in New Delhi on a 4 acre site. The design was intended to accommodate a minimum of 1600 dwelling units within the plot in addition to the basic amenities. The design brief was focused on innovative use of low cost, low impact materials in- line with the GRIHA Affordable Housing rating.

More than 25 colleges from all over India submitted their entries for the competition. Out of these 3 entries were conferred as winners.. The panel of the jury included Ms Shabnam Bassi, Secretary, GRIHA Council, Ms Swati Gupta, Manager, GRIHA Council and Mr Ankit Bhalla, Deputy Manager, GRIHA Council.

Design entry of Indian Education society's college of Architecture, Mumbai was declared the winner followed by two special mentions M.N.I.T. (Deemed University), Jaipur and TKM College of Engineering, Kollam. All these 3 entries presented their design at the virtual 'GRIHA Trophy at NASA' event on 5th October 2021.
Copyright © 2021 GRIHA Council
GRIHA Council, Core1B, 3rd Floor, India Habitat Centre, Lodhi Road, New Delhi - 110003
Tel: - (+91 11) 46444500/24339606-08
If you do not wish to receive this newsletter Click here