| | |
| --- | --- |
| GRIHA NEWSLETTER | |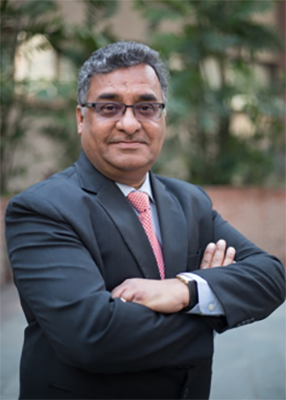 Mr. Sanjay Seth, CEO GRIHA Council
According to UNESCO, as of 2021, an appalling 47% of national curriculum frameworks of 100 countries made no reference to climate change. Prioritising education for sustainability is the key to attaining India's Sustainable Development Goals. Education – the driver of sustainable development – can impart and equip the nation with the knowledge, skill and attitude required to take informed decisions and responsible actions for sustainable development.

In order to engage and empower through education, GRIHA Council conducted a complimentary 8-Day handholding and training programme on the GRIHA Version 2019. The objective was to impart knowledge and guidance to the professionals in the green building industry about the rating, its intent and requirements; for efficient implementation and to ensure maximum environmental performance by each project. The sessions were very well received with an average of 200 people in attendance.

Further leveraging the role of education in green transformation, GRIHA Council in partnership with the Indian Institute of Architects (IIA) conducted an intensive training session on "GRIHA for Existing Buildings" for the architecture fraternity on 30th July, 2022. This is being followed up with a training programme on water management and attaining water positivity conducted by GRIHA Council in collaboration with Planning Insights, on 26th – 27th August, 2022. Creating awareness about adopting water efficient solutions and reducing the water footprint of development, will provide a much needed boost to the water conservation movement in India.

As the Council gears up for its flagship event, the GRIHA Summit 2022, I am pleased to announce the first prelude event "Paryavaran Rakshak Programme" which provides a platform for students to showcase their understanding of sustainability and aims to establish in them, environmental awareness at an early age. This event is designed as a Nukkad Natak competition based on the theme "Earth ko Anarth se Bachaye", and I invite schools from across the country to participate on 18th November at India Habitat Centre, Delhi.

GRIHA Council hosts its annual flagship event every year to deliberate on issues which are of national discourse with themes such as "Transforming Habitats", "Rejuvenating Resilient Habitats", and "Restoring Green Economy" etc. The 14th GRIHA Summit is scheduled on December 15th - 16th, 2022 at India Habitat Center, New Delhi on the theme 'Towards Net Positive Habitats'.

The intent of this year's summit is a step towards achieving the COP 26 commitments of India. It aims to bring in experts from different industries on one platform to deliberate on ways to reduce carbon emissions, increase carbon sequestration and take the net positive habitat movement to the general masses.
| | |
| --- | --- |
| | Training Programme on Water Management in collaboration with Planning Insights |

The 2 day training session on water management & water positivity, organized by Planning Insights, in collaboration with GRIHA Council, stands postponed to 26th and 27th August, 2022.

We regret the inconvenience caused, but also look forward to your participation on the revised dates.

Click here for further details – https://www.planninginsights.co.in/courses
| | |
| --- | --- |
| | GRIHA Summit – Prelude Event "Paryavaran Rakshak Programme 2022" |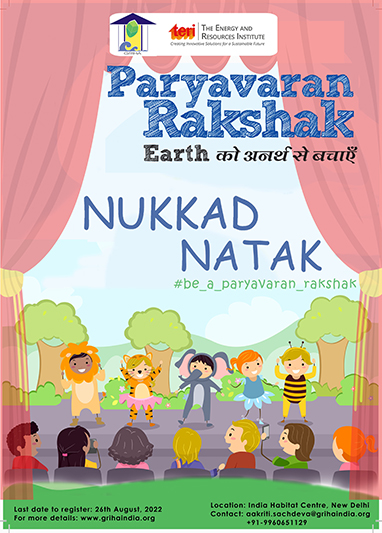 The GRIHA Council is organizing a prelude event "Paryavaran Rakshak Programme" at the India Habitat Centre, New Delhi, on 18th November 2022, as a part of its flagship event, GRIHA Summit 2022 to highlight the need of involvement of students in sustainable development. It aims to create awareness amongst the students to achieve the sustainability agenda. The theme of the event is "Earth ko Anarth se Bachaye" where schools across India can participate in the form of a Nukkad Natak (skit) competition.

In the past, we carried out many activities: to cite a few examples - a two days' workshop was conducted on "Mud and Bamboo Architecture" by Ar. Revathi Kamath, a clean-up drive was organized in association with Green Dream Foundation at Hauz Khas in the year 2019 which resulted in the collection, segregation, and disposal of waste at the Hauz Khas Village parking area. To promote the development of sustainable buildings and habitats in India, "Chhaya", a tree plantation drive was organized.

Sustainable education is a key for the next generation to become self-reliant global citizens who are aware of the urgency of environmental responsibility. It gives practical knowledge to the students to make the planet more sustainable. Through this platform, students will get an opportunity to showcase their understanding of the concept of sustainability.

Click here for further details – https://www.grihaindia.org/griha-summit-%E2%80%93-prelude
| | |
| --- | --- |
| | One Day Training by IIA Northern Chapter in partnership with GRIHA Council |

Indian Institute of Architects, Northern Chapter (IIANC), in collaboration with the GRIHA Council conducted a one-day training programme on GRIHA for Existing Buildings rating, on 30th July 2022 (Saturday) at India Habitat Centre, New Delhi.

The training programme began with a brief introduction to glass and its properties, as well as how glass affects the heat load of the building. The training program was attended by 20+ participants which included architects, consultant, research scholars and many more. The training program on GRIHA EB focussed on site parameters, maintenance, housekeeping, energy, water, occupant health & comfort and social aspects with respect to existing buildings, followed by a hands on demonstration of the GRIHA EB tool. The GRIHA EB tool helped the participants to do self-feasibility of the project. Each criterion was explained in detail followed by exercises and hands on session on the feasibility tool. A certificate, co-signed by GRIHA Council and IIANC was awarded to all the participants.

GRIHA for Existing buildings (EB) rating is an integrated tool to assess the performance of existing buildings and provide sustainable solutions whilst augmenting the indoor comfort of the occupants.

Click here for further details – https://www.grihaindia.org/one-day-griha-eb
| | |
| --- | --- |
| | Complimentary Handholding Training Programme on GRIHA V.2019 |

A complimentary 8-Day training programme was conducted by GRIHA Council on the GRIHA Version 2019. This training was held for an hour every Friday, for a period spanning 8 weeks, starting 10th June, 2022. Registered participants attended all or selected sessions of their interest. All the sections in GRIHA V.2019 were discussed in detail during these sessions. This was an effort by GRIHA Council to provide handholding guidance to the professionals in the green building industry to get acquainted with the latest GRIHA rating – the GRIHA V.2019. The objective was to impart knowledge to the participants so there is a clear understanding on the requisites against each appraisal of each criterion, for all sections. We hope that this will help all professionals' smoothly transition to the new version and help prevent multiple rounds of submissions for a project, which will eventually help in reducing the overall timeline to achieve a rating.

The training was attended by 1,367 participants overall.
| | |
| --- | --- |
| | SVA GRIHA 5 Star Final Rating Awarded to Gratitude EcoVilla, Puducherry |
| | |
| --- | --- |
| | New Products have been enlisted in the GRIHA Product Catalogue |
| | |
| --- | --- |
| | GRIHA Certified Professional Examination on V.2019 in the upcoming months |
| Month | Date |
| --- | --- |
| August | 26.08.2022 |
| September | 16.09.2022 |
As fuel prices rise, companies look to energy efficient solutions

With fossil fuel prices reaching record highs, companies around the world are focusing on energy efficiency to save money and reduce the emissions driving the climate crisis.

Research shows that a safe future below 1.5°C requires the world to cut 30 gigatonnes greenhouse gas emissions (CO2) annually by 2030. Carbon emissions need to be cut by building smart cities and managing land and resources more efficiently. Transport and buildings are among the largest contributors. Energy efficiency can take many forms, with U4E focusing on lighting, refrigeration, air conditioning, distribution transformers and electric motors.

LED lamps, for example, are not only more efficient than conventional lamps, but they also last 20 times longer. Research shows that by switching to LED lighting in 156 developing countries, over 110 terawatt-hours (TWh) could be saved by 2030, nearly the same as the current electricity consumption of the Netherlands.


Family's Alternative to Plastic Packaging is 100% Recyclable & Earns Rs 1.5 Crore/Year

Mahesh, Varsha, and Naman Agarwal, a Mumbai-based family, run EcoCushion Paper, a venture that makes and sells honeycomb paper packaging to offer an eco-friendly alternative to bubble wraps and plastic.

Sometimes, the best ideas come to us in the strangest of circumstances. Take Mahesh Agarwal for instance. The 62-year-old had been working in Delhi for over 40 years, when in April 2020, he made up his mind to move to Mumbai to be closer to his children.

His kids Varsha and Naman, both in their thirties, took a flight to help their father pack his things, among which were antiques, precious items, and many more things that needed to be safely transported from their childhood home to Mumbai.

Like many people do when relocating, the Agarwal family wrapped their belongings in bubble wrap. But they were alarmed by the amount of plastic they had to use, and aware of what problems this would pose for the environment.

Copyright © 2022 GRIHA Council
GRIHA Council, Core1B, 3rd Floor, India Habitat Centre, Lodhi Road, New Delhi - 110003
Tel: - (+91 11) 46444500/24339606-08
If you do not wish to receive this newsletter Click here