| | |
| --- | --- |
| GRIHA NEWSLETTER | |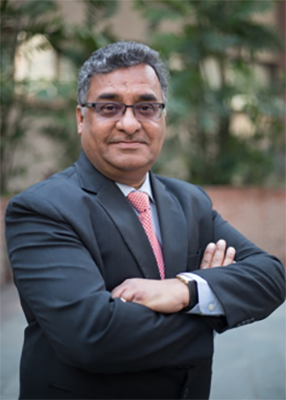 Mr. Sanjay Seth, CEO GRIHA Council
As we step into 2022, let me convey my good wishes for the New Year, with the hope that the year witnesses renewed commitments towards ensuring sustainability in development.

We concluded the last year on a good note as we successfully hosted "The GRIHA Event" with the theme – "Restoring Green Economy". The event was graced by Shri Bhupender Yadav, Hon'ble Minister of Environment, Forest & Climate Change, Government of India; H.E. Mr. Hans Jacob Frydenlund, Ambassador, Royal Norwegian Embassy in India; H.E. Mr. Freddy Svane, Ambassador, Royal Danish Embassy in India; Dr. Divya Datt, Programme Management Officer, UN Environment Country Office, India and Mr. Anand Santhanam, National Head – Sales and Marketing, Saint-Gobain India Private Limited. The event included GRIHA ratings awarded to eligible projects together with exemplary performance awards being presented to the winners under various categories by the dignitaries. The occasion also marked the release of new GRIHA publications including the latest version of the SVAGRIHA rating; Shashwat magazine and the GRIHA product catalogue dashboard.

A significant juncture in the event was the signing of a MoU between Govardhan Ecovillage and GRIHA Council that focuses on the promotion of green buildings worldwide along with the co-development of training and capacity building programmes for the youth globally. With this MoU, we look forward to further advance our comprehensive partnership for strategic engagements and research in the upcoming years. I also take this opportunity to express my gratitude to the esteemed dignitaries; GRIHA awardees; participants; partners of the GRIHA Event and the TERI and GRIHA Team for the success of the GRIHA Event 2021.

Friends as we are now witnessing a resurgence of COVID-19 cases in the third wave, we again need to take preventive and protective actions for our safety and wellbeing. On this note, GRIHA Council has once again transitioned to conducting all site visits and workshops virtually. We will ensure a flexible approach in working which will help us continue the momentum that we have together achieved so far and enable us to meet our sustainability targets. I urge everyone to maintain the protocols in place and wish you a safe and healthy year ahead.


| | |
| --- | --- |
| | Launch of the GRIHA Product Catalogue Dashboard |
| | |
| --- | --- |
| | GRIHA Certified Professional Examination on V.2019 in the upcoming months |
| Month | Date |
| --- | --- |
| January | 21.01.2022 |
| February | 18.02.2022 |
| | |
| --- | --- |
| | GRIHA 5 Star Provisional Rating awarded to Koneru Lakshmaiah Education Foundation, Central Research Block, Andhra Pradesh |
| | |
| --- | --- |
| | SVAGRIHA 3 Star Rating awarded to International Hostel at Jipmer Campus, Puducherry |
| | |
| --- | --- |
| | New Products have been enlisted in the GRIHA Product Catalogue |
Company name: Wienerberger India Pvt. Ltd
Product name: Porotherm HP 200 - 1.0 W/m²K, Porotherm HP 150 - 1.2 W/m²K, Thermobrick TB 200 - 0.6 W/m²K, Thermobrick TB 150 - 0.7 W/m²K, Porotherm VP 200 - 1.2 W/m²K & Porotherm VP 150 - 1.4 W/m²K.
Product typology: Acoustic Insulation and Walling Blocks

Company name: HSIL Limited
Product name: Element (F360011GRCP, F360012GRCP, F360001GRCP, F360002GRCP, F360013GRCP, F360019GRCP, F360018GRCP, F360005GRCP); Contessa Plus (F330002GRCP, F330020GRCP, F330004GRCP); Flora (F280010GRCP, F280001GRCP, F280018GRCP, F280016GRCP, F280003GRCP)
Product typology: Low Flow Fixtures

Company name: Ecorain Water Harvesting
Product name: Ecorain water harvesting & Ecorain Grass Paver.
Product typology: Rain Water Harvesting Filtration Systems

NASA-supported Study Confirms Importance of Southern Ocean in Absorbing Carbon Dioxide

When human emissions of CO2 enter the atmosphere, some of that gas is absorbed by the ocean. Cold water from the deep ocean rises to the surface through a process called upwelling. Once at the surface, that colder water absorbs CO2 in the atmosphere – often with the help of photosynthesizing organisms called phytoplankton – before sinking again.

Measurements of CO2 and other ocean properties suggest that 40% of the human-produced CO2 in the ocean, worldwide, was originally absorbed from the atmosphere into the Southern Ocean, making it one of the most important carbon sinks on our planet. But measuring the flux, or exchange, of CO2 where the air meets the sea has been challenging.

In this study, the team used airborne measurements from three field experiments: ATom, HIPPO and ORCAS. Collectively, these projects captured a critical piece of information: the vertical gradient of CO2 in the atmosphere.

| | |
| --- | --- |
| | 5 Day Training Programme for MES Bareilly |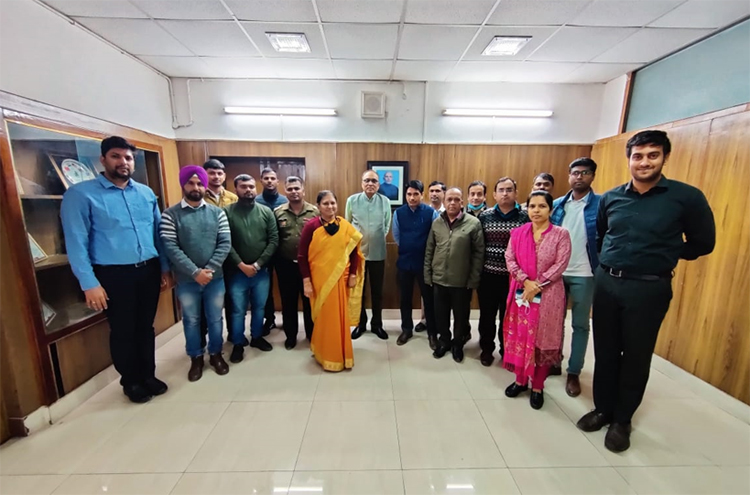 A Five day intensive "GRIHA (Green Rating for Integrated Habitat Assessment)" training programme on version 2019 was organized for the officials of MES by GRIHA Council from 22nd- 26th November, 2021 at Bareilly to give a detailed understanding of GRIHA for their upcoming project in Ranikhet, registered under GRIHA.

The programme focused on various sections of the version 2019 rating such as Site Planning & Construction Management, Occupant Comfort & Well-Being-Daylighting only, Artificial Lighting, Thermal & Acoustic Comfort, Energy Management, Performance Metering and Monitoring, Water Management, Solid Waste Management, Socio-Economic Strategies, Sustainable Building Materials and Life Cycle Cost Analysis.

The 5-day programme was divided into eleven sessions. Each session was carried out with the presentation of the respective criteria followed by individual exercises for the participants. The programme was very well received by the officials of MES and received excellent feedback.


Overall experience of the training program was very good. It contains norms of GRIHA and would be strongly recommended to register our project with GRIHA.



- Sachin Kumar Suman, JE, GE (MES) Raniket



Excellent deliberation of training by excellent professionals. High detailed analysis of topics covered, must be appreciated.




- Istikhar Ahamad, JE (Civ), MES, Bareilly Zone



It was quite a comprehensive programme which highlighted with detail every criteria of GRIHA version 2019.





- Dhan Singh Meena, EE(SG), JTDIR(PIG), MES, Bareilly Zone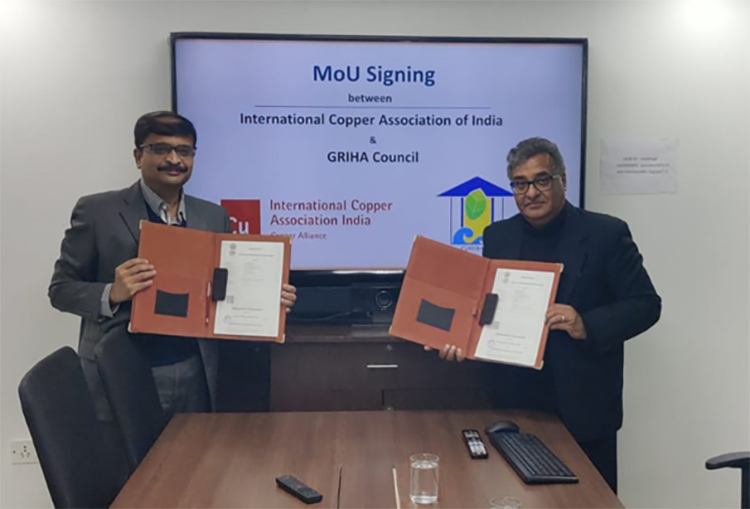 An MoU was signed between GRIHA Council and International Copper Association India in a common pursuit of promoting Sustainable Habitat in India through GRIHA Rating and its variants, research, technical development, and capacity building.


Copyright © 2022 GRIHA Council
GRIHA Council, Core1B, 3rd Floor, India Habitat Centre, Lodhi Road, New Delhi - 110003
Tel: - (+91 11) 46444500/24339606-08
If you do not wish to receive this newsletter Click here