| | |
| --- | --- |
| GRIHA NEWSLETTER | |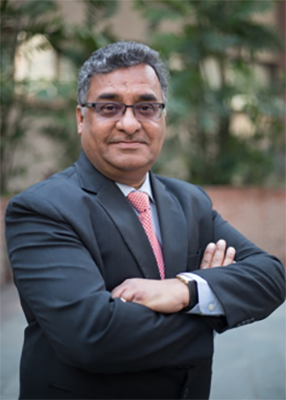 Mr. Sanjay Seth, CEO GRIHA Council
World Environment Day, commemorated annually on 5th June was initiated by the United Nations to encourage global awareness and action to protect our environment. With the world on course to breach the 1.5 °C global warming threshold in the next 5 years, this day holds the utmost importance as it highlights and reiterates to all, the urgent commitment and care needed by our planet to sustain.

With the intention to educate and activate participants about environmental issues, I am pleased to inform you that GRIHA Council is co-organiser at "GREENOVATION 2022 - INTERNATIONAL GREEN BUILDING TECHNOLOGY EXPO". GREENOVATION 2022 which is being held from 4th to 6th June 2022 at Pragati Maidan, New Delhi is a platform to promote technology and build an environment-friendly & resource saving society whilst showcasing sustainable ideas, technology, equipment and designs to a multitude of stakeholders. GRIHA Council will be chairing a session on "Engaging Women in Sustainability" which shall deliberate on the need for intentional and inclusive solutions, focussed on transformational collaboration as a means for solving the climate crisis. It aims to awaken the world to the economic, social and environmental benefits of gender equity.

I also take this opportunity to announce that the theme for the annual GRIHA Summit scheduled on 15th-16th December 2022, is 'Towards Net Positive Habitats'. We look forward to your enthusiastic participation.
| | |
| --- | --- |
| | Complimentary Handholding Training Programme on GRIHA V. 2019 |
| | |
| --- | --- |
| | Session on GRIHA at SUNREF India Programme – Regional Promotional Event |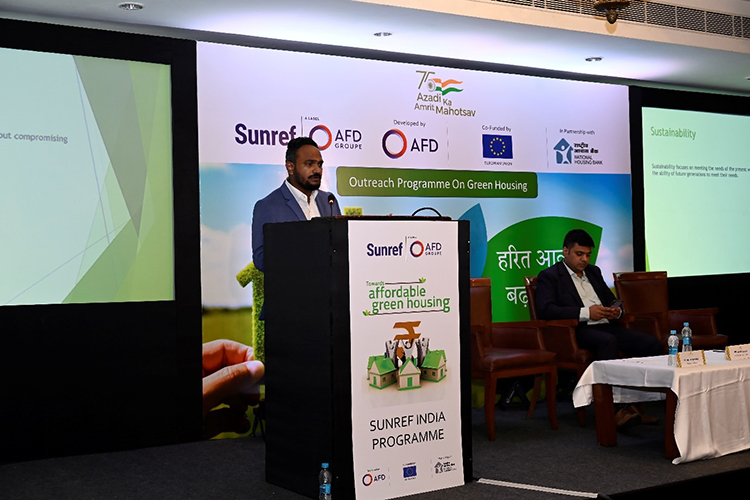 SUNREF (Sustainable Use of Natural Resources and Energy Finance) Housing India programme held its regional promotional event in Chennai, Tamil Nadu, on 26th May, 2022, to highlight the importance of green affordable housing and present its key features to the key stakeholders present at the event. Aimed at scaling up green affordable housing projects in India, SUNREF Housing India programme was launched by the French Development Agency (Agence Française de Développement, AFD) in partnership with the National Housing Bank (NHB) and with financial participation from the European Union (EU) in July 2017. More specifically, it consists in an innovative credit line of €100 million from AFD which enables banks, housing finance companies (HFCs) to fund green and affordable housing projects and allied investments. This financing is reinforced by a €9 million investment grant and €3 million technical assistance grant, both provided by the EU, to soften the interest rates offered to HFCs and implement promotional and capacity building activities – making of this project an ambitious and first-of-a-kind programme.

Mr. Gagan D Kechira, Manager, Southern Region, GRIHA Council had delivered a session on 'Eligible GRIHA rating systems and their certification process, green building incentive and best practices', which was well received by the participants. There was also a panel discussion round at the end where challenges and issues were discussed. The event in Chennai was attended by representatives of banks, housing finance companies (HFCs), real estate developers, government agencies, green-building experts, architects and green material producers from the Southern States.
| | |
| --- | --- |
| | Online Training on "GRIHA Product Catalogue" |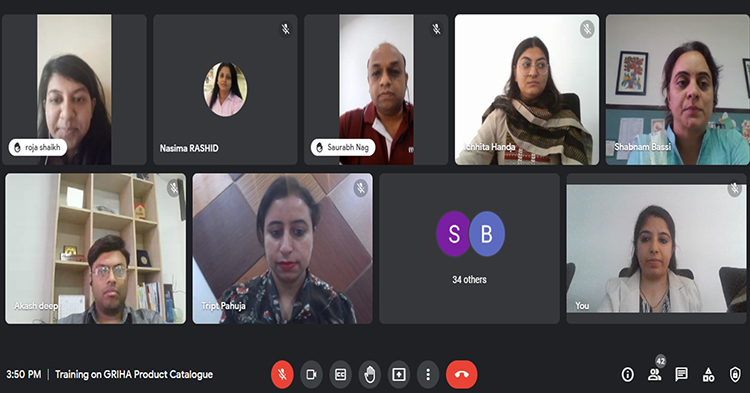 GRIHA Council conducted an online training on "GRIHA PRODUCT CATALOGUE" on 3rd June, 2022 as 10 years of GRIHA Product Catalogue were completed. GRIHA Council in association with TERI has launched the GRIHA Product Catalogue in the year 2012 to provide information about products which meet GRIHA parameters to the architects, engineers, builders, consultants, industries and other building professionals for use in their GRIHA rated projects. The training acted as a platform to disseminate information to the manufacturers for the enlistment of green products through the newly launched dashboard and assessment criterion in GRIHA Product Catalogue. The dashboard has been developed to ease the process of enlistment of products by predefining the typologies or applications in which they can get enrolled. This helped the clients to identify the green products available in the market. As part of the event, GRIHA Council also recognized the effort of various manufacturers for continuous enlistment in GRIHA Product Catalogue for the past decade.

Click here for more details: https://www.grihaindia.org/training-griha-product-0
| | |
| --- | --- |
| | Half-day Awareness Programme at Ranganathan Architecture College, Coimbatore |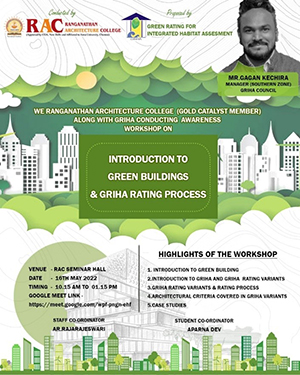 Ranganathan Architecture College, Coimbatore is registered with GRIHA as a Gold member under the GRIHA CATALYST membership. Under the ambit of this membership, an online half day awareness programme was conducted on 16th May, 2022. The programme was designed to facilitate the students to develop an understanding on GRIHA and create awareness on general concepts and processes under GRIHA and its variants. The programme commenced with a presentation on the major environmental challenges faced due to today's building sector and the need to create green buildings. This was followed by an overview of GRIHA rating system and its variants, highlighting the intent of the sections and their criteria. Case studies under the GRIHA, SVAGRIHA and GRIHA EB variant were also presented by the representatives of the project team, to give the participants an insight on how projects have been benefitted by adopting GRIHA as a rating tool. The programme received an overwhelming response and was attended by more than 140 students.
| | |
| --- | --- |
| | New Products have been enlisted in the GRIHA Product Catalogue |
| | |
| --- | --- |
| | One-Day Student Training Programme at Sri Ramakrishna Engineering College, Coimbatore |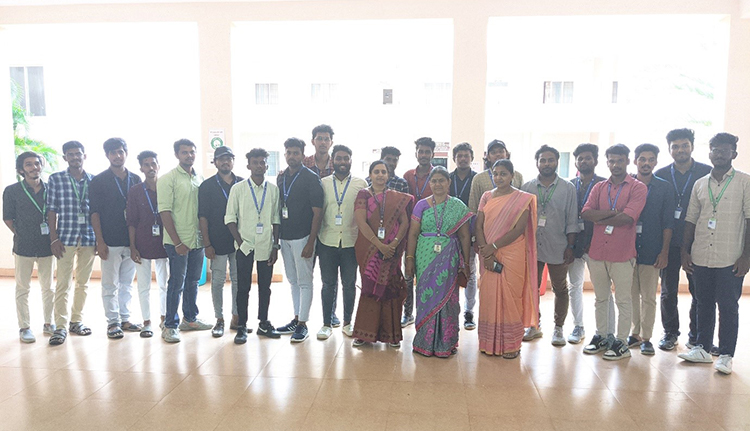 Sri Ramakrishna Engineering College, Coimbatore is registered with GRIHA as a Gold member under the GRIHA CATALYST membership. Under the ambit of this membership, a 1-day online student training programme was conducted on 31st May, 2022. The programme was designed to facilitate the students to develop an understanding on GRIHA and create awareness on general concepts and processes under GRIHA and its variants. The programme commenced with a presentation on the major environmental challenges faced due to today's building sector and the need to create green buildings. This was followed by an overview of GRIHA rating system and its variants, highlighting the intent of the sections and their criteria. Criteria related to the engineering background of the students were detailed out and explained. Exercises on water management and construction management were also carried out as a part of the training programme. The programme received an overwhelming response and was attended by 22 students.

Click here for more details: https://www.grihaindia.org/1-day-student-training
| | |
| --- | --- |
| | Greenovation 2022- International Green Building Technology Expo |
GRIHA Council co-organized the World Environment Expo Greenovation which was held from 4th - 6th June 2022. The expo showcased a variety of Technology, Products, Services, Initiatives, and Schemes. A panel discussion was also organized on the theme "Engaging Women in Sustainability" wherein Ms. Shabnam Bassi, Deputy CEO & Treasurer, GRIHA Council elaborated on the importance to comprehend the linkages between gender inequality and environmental degradation to get a head start in promoting sustainable development outcomes. She also reiterated that the inclusion of women in the employment sector not only provides economic and environmental benefits but also brings social changes in the form of upliftment of their status in their respective communities. Citing the example of the GRIHA Council, Ms. Bassi, mentioned the holistic approach that the GRIHA Council has adopted to achieve sustainability and the gender balance at the workplace that helped in creating a healthy work environment which further provides a sense of comfortability and safety amongst the employees. The moderator of the event was Ar. Gaurav Shorey. The esteemed panellists included, Mrs. Delphine Brissonneau, Dr. Divya Datt, Ms. Vaishnavi Shankar, and Archana Khanna. The event was very well received and witnessed great enthusiasm by all.

Click here to register:
http://www.greenovation-expo.com/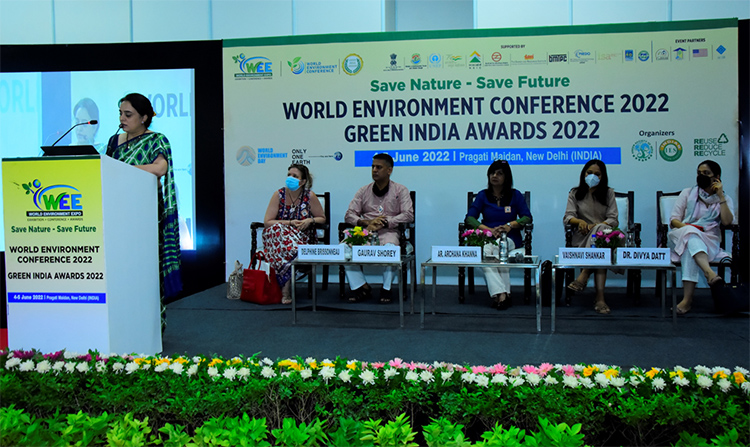 | | |
| --- | --- |
| | GRIHA Certified Professional Examination on V.2019 in the upcoming months |
| Month | Date |
| --- | --- |
| June | 17.06.2022 |
| July | 15.07.2022 |
Copyright © 2022 GRIHA Council
GRIHA Council, Core1B, 3rd Floor, India Habitat Centre, Lodhi Road, New Delhi - 110003
Tel: - (+91 11) 46444500/24339606-08
If you do not wish to receive this newsletter Click here