| | |
| --- | --- |
| GRIHA NEWSLETTER | |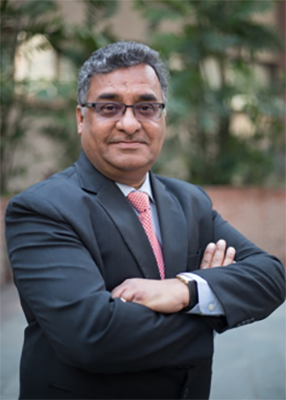 Mr. Sanjay Seth, CEO GRIHA Council
The 22nd of this month is observed as the 'World Water Day' and draws attention to the essential and depleting resource – fresh water. Climate Change is disrupting weather patterns, leading to extreme weather events, unpredictable water availability, exacerbating water scarcity and contaminating water supplies. Overutilization of water resources and contamination of water supply like rivers, along with lack of water treatment facilities has aggravated the already existing water crisis in India. From being a 'ubiquitous resource' freshwater today is a 'precious' one, without any substitutes or alternatives.

There is a need to create awareness and advocate for the sustainable management of freshwater resources. I am pleased to share that GRIHA Council has recently launched the 'GRIHA Water Positive Certification' that quantifies the impact of water efficient solutions adopted and implemented by the project to reduce water footprint. It has been developed to help projects meet the clean water targets of Sustainable Development Goal 6 and achieve water self-sufficiency. We hope that with this certification, we can implement integrated management of water resources at all levels.

As the financial year draws to a close, we would like to thank the GRIHA Community for your support. With every step, we take for sustainable development, it is your trust in GRIHA and what it stands for, which helps us grow. Let us enter the financial year 2022-23 with focus and inspiration, as we continue to pursue our vision for a greener future.

May the festival of colors brighten your life with happiness, health and success. Wishing you and your family a very Happy Holi 2022.
| | |
| --- | --- |
| | JAN GRIHA – A Certification cum Impact Assessment Tool |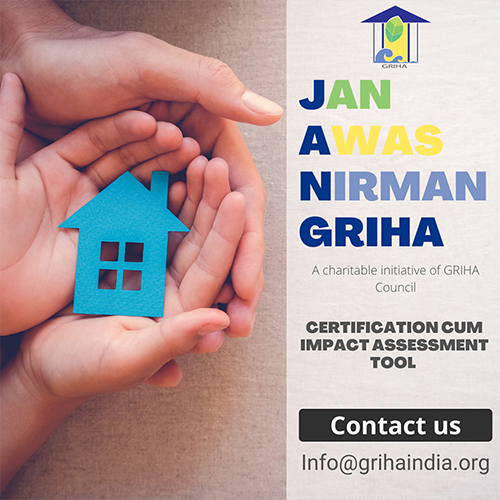 Considering the importance of climate change and the need for sustainable affordable standalone housing in India, GRIHA Council is launching a new certification called 'Jan Awas Nirman GRIHA' also known as 'JAN GRIHA'. JAN GRIHA will cater to the smaller low cost residential buildings in India with built-up area ≤ 200 sq.m

Click here for further details- https://www.grihaindia.org/jan-griha
| | |
| --- | --- |
| | April 22, 2022, Fourth GRIHA Consultant Meet, Juniper Hall, IHC |
| | |
| --- | --- |
| | Empanelment of GRIHA Consulting Firms |
| | |
| --- | --- |
| | GRIHA Certified Professional Examination on V.2019 in the upcoming months |
| Month | Date |
| --- | --- |
| March | 11.03.2022 |
| | |
| --- | --- |
| | New Products have been enlisted in the GRIHA Product Catalogue |
Impakter launches eco marketplace with 9000+ verified ecofriendly products

Leveraging its expertise in sustainability, Impakter has launched an eco marketplace for environmentally friendly products, vetted and verified using the same evaluation method behind Impakter's Sustainability Index that has assessed over 500 of the world's leading companies.

The index and methodology was developed over the last five years by a team of experts and tested at the Haas Innovation Lab in Berkeley. Since June 2021, it has served as a key component of United Nations Industrial Development Organization's (UNIDO) Global Sustainability Index, which aims to drive a more transparent ESG and SDGs compliant methodology.

The sustainable marketplace will offer over 9,000 products from 110 verified brands – rated A or B on the Impakter Sustainability Index – across a wide range of niches and needs for women, men, and kids, including fashion, beauty, homeware, pet products and more.

| | |
| --- | --- |
| | Feb 23, 2022, Orientation Workshop for PWD officials, Nanded |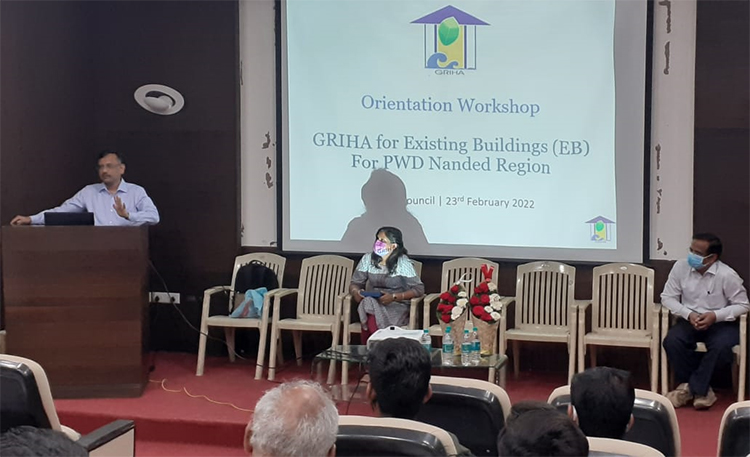 A half-day GRIHA orientation workshop was organized by GRIHA Council with support from the Public Works Department (PWD), Nanded Region, Government of Maharashtra on 23 February, 2022 at Conference Hall, PWD Rest House, Nanded.

The aim of the orientation workshop was to ensure that teams, of all the existing government projects in Nanded region which are registered under GRIHA EB rating system, are sensitized and familiarised with the rating. This workshop was conducted for PWD projects teams including architects, civil engineers and all other representatives from their construction fraternity. The workshop received a good response with around 50 PWD professionals participating in the same.


| | |
| --- | --- |
| | Feb 28, 2022, Session at SUNREF Regional Promotional Event |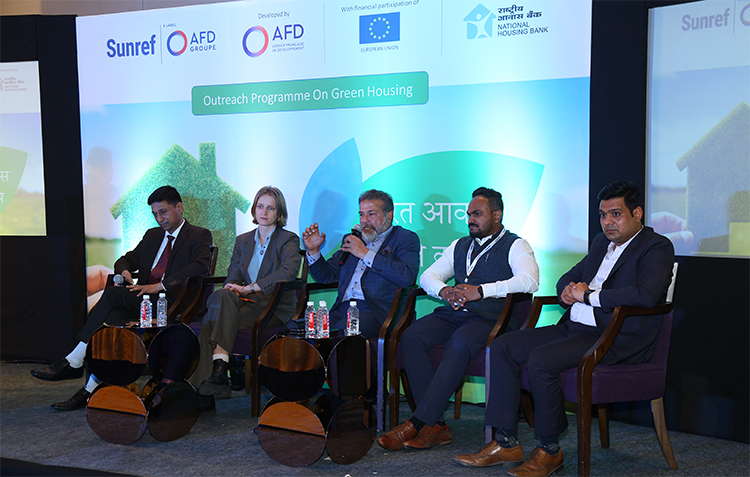 SUNREF (Sustainable Use of Natural Resources and Energy Finance) Housing India programme held its 3rd regional promotional event in Bengaluru, Karnataka, on 28th February, 2022, to highlight the importance of green affordable housing and present its key features to the 80-housing market key stakeholders present at the event.

Mr. Gagan D Kechira, Manager, Southern Region, GRIHA Council had delivered a session on 'Eligible GRIHA rating systems and their certification process, green building incentive and best practices', which was well received by the participants. There was also a panel discussion round at the end where challenges and issues were discussed. The event in Bengaluru was attended by representatives of banks, housing finance companies (HFCs), real estate developers, government agencies, green-building experts, architects and green material producers from the Southern States.

Click here for further details- https://www.grihaindia.org/session-griha-sunref


| | |
| --- | --- |
| | Feb 15, 2022, CIDC Virtual Workshop |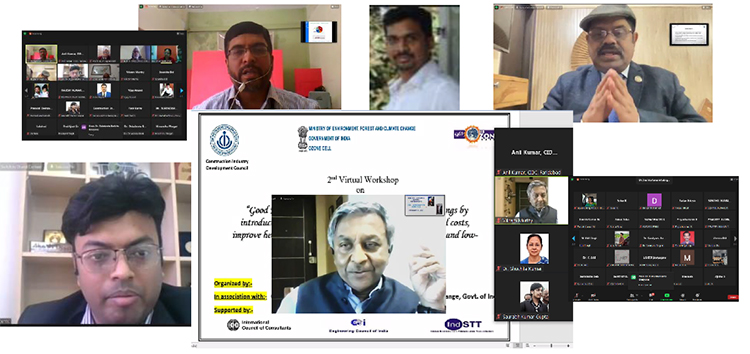 2nd Regional Virtual Workshop on "Good Management Practices for energy efficient buildings by introducing Passive Cooling designs, to reduce operational costs, improve health and comfort and promote use of non-HCFC and low-GWP alternatives" was held on 15th February 2022. This workshop was organized by Construction Industry Development Council in association with Ozone Cell, Ministry of Environment, Forest and Climate Change, Govt. of India.

Mr. Akash Deep, Senior Programme Manager, GRIHA Council gave an overview of ECBC and its implementation in Building Design. The program was circulated among Architects, CIDC Vishwakarma Award Applicants, Construction companies, RERA, Engineers, Consultants, Engineering Council of India's Members, Educationalists etc. etc. The workshop was very well received with over 539 participants.


| | |
| --- | --- |
| | Feb 24-26, 2022, Green Audit and Certification Course, UAS Dharwad |
A certification course on "Green Audit and Certification" was organized by the University of Agricultural Sciences (UAS) Dharwad for their students between 24th and 26th February 2022.

GRIHA Council officials conducted 5 out of the 8 sessions in the course. The students were taught about the importance of Construction Management which was followed by a group exercise. The exercise required the students to develop a PERT Chart and a construction management plan for a project. This was followed by a discussion. The session concluded with a game called "Power Wars". The sessions were attended by about 60 participants and were well received.


| | |
| --- | --- |
| | March 5, 2022, Women of Vision Awards |
| | |
| --- | --- |
| | Building Materials Database and Tool |
Copyright © 2022 GRIHA Council
GRIHA Council, Core1B, 3rd Floor, India Habitat Centre, Lodhi Road, New Delhi - 110003
Tel: - (+91 11) 46444500/24339606-08
If you do not wish to receive this newsletter Click here