| | |
| --- | --- |
| GRIHA NEWSLETTER | |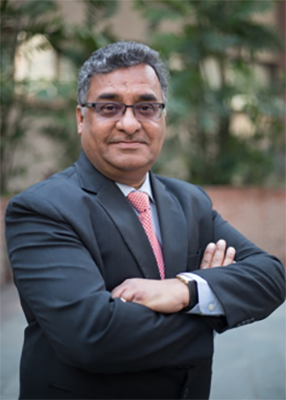 Mr. Sanjay Seth, CEO GRIHA Council
Indian cities are expanding exponentially and with it is the quantum of solid waste generated. In 2020, India generated about 62 million tonnes of solid waste which is projected to rise to 150 million tonnes by 2030. Of this only 85% is collected and of which, only 30% is treated. The remaining waste is disposed of into unregulated landfills or burned, contributing significantly to environmental degradation. Comprehensive solid waste management is crucial for the protection of public health, safety, and environmental quality.

The government, as a part of their commitment towards the country's development, has taken up various large scale initiatives to address India's waste management issues. In line with these precedents, I am happy to announce that, GRIHA Council has launched the 'GRIHA Zero Waste Certification'. This programme provides certification for zero waste development projects based on a waste audit and includes technical consultancy for comprehensive and customized solid waste management. GRIHA's Zero Waste Certification aims to help fulfil the targets 12.4 and 12.5 of "Sustainable Development Goal 12- Ensure sustainable consumption and production patterns". I encourage each one of you to embrace 'Zero Waste' concepts and adopt integrated circular economy solutions to minimize the impact of development on the environment.

It is the rich experience of stakeholders and their feedback on our initiatives that strengthen our contributions to the sustainability development in India; and on that note, I invite you to attend the 4th GRIHA Consultant Meet on 22nd April 2022 at the India Habitat Centre. Let us come together to aim for and achieve more key milestones in this sector.

It's also time to mark your calendar for the awaited annual event- The GRIHA Summit 2022, which has been scheduled for 15th and 16th December 2022. We're excited to have you join us for two days of deliberations, collaborations and education.
| | |
| --- | --- |
| | Green Building Auditor Programme |
| | |
| --- | --- |
| | April 22, 2022, Fourth GRIHA Consultant Meet, Juniper Hall, IHC |
| | |
| --- | --- |
| | GRIHA Empanelled Consultant |
| | |
| --- | --- |
| | GRIHA 4 Star Provisional Rating Awarded to Polite Precisa, Pune, Maharashtra |
| | |
| --- | --- |
| | GRIHA 3 Star Provisional Rating Awarded to Rajiv Gandhi National Aviation University Hostel Block, Fursatganj, Uttar Pradesh |
| | |
| --- | --- |
| | GRIHA Certified Professional Examination on V.2019 in the upcoming months |
| Month | Date |
| --- | --- |
| April | 22.04.2022 |
| May | 20.05.2022 |
| | |
| --- | --- |
| | New Products have been enlisted in the GRIHA Product Catalogue |
These 11 States Are Leading India's Transition to EVs With Key Policy Initiatives

According to a recent report by the Federation of Automobile Dealers Associations (FADA), in February, India's electric vehicles segment saw a 58 per cent growth when compared to January, and around 297 per cent increase when compared to the previous year. This data definitely underlines the rapid growth in the EV segment of India, which has gained widespread acceptance over the last few years.

Data shows that among Indian states, Uttar Pradesh tops the list with 2,55,770 registered EVs, followed by Delhi with 1,25,347, Karnataka with 72,544, Bihar with 58,104 and Maharashtra with 52,506 EV registrations.

The increase in EV sales, even amidst a global pandemic, isn't attributed to the impending hike in fuel prices alone, but also to the increased awareness and changing public consciousness around understanding clean energy. The central government and different state governments have been encouraging the adoption and manufacture of electric vehicles by introducing several policies as well as tax deductions.


This Entrepreneur's 100% Tree-Free Paper Saves 30000 Litres Of Water Every Day

Growing up amid the sprawling greenery of Coorg, Kavya Madappa always harboured a deep connection with nature. But statistics surrounding environmental degradation worried her — every year, around 3-4 billion trees are cut to manufacture paper.

Her part of the solution to this is Bluecat Paper, her startup which makes tree-free paper by using industrial and agro-waste including textile waste from cotton industries, linen, flax, hemp, lemongrass, mulberry bark, rice stubble, coffee husk, banana fibre and elephant dung. This biodegradable paper is then turned into a range of products, ranging from stationery to decor.

Kavya's startup also ensures that minimal chemicals are used in the manufacturing process of their eco-friendly product. Moreover, by upcycling waste, the startup saves about 30 tonnes of wood per month, and a minimum of 30,000 litres of water a day.

Copyright © 2022 GRIHA Council
GRIHA Council, Core1B, 3rd Floor, India Habitat Centre, Lodhi Road, New Delhi - 110003
Tel: - (+91 11) 46444500/24339606-08
If you do not wish to receive this newsletter Click here