| | |
| --- | --- |
| GRIHA NEWSLETTER | |
| | |
| --- | --- |
| | The GRIHA Event 2021 - Restoring Green Economy |
| | |
| --- | --- |
| | Welcome Address and Introductory Remarks |
| | |
| --- | --- |
| Dr. Vibha Dhawan – President, GRIHA Council, in her welcome address, expressed the need for immediate action against climate change, to build a safe and resilient environment for all generations to come. She said, "We must align our economic goals with sustainable development to create an environment that is resource-efficient, low-carbon, and socially inclusive." | Mr. Sanjay Seth, CEO, GRIHA Council, elaborated on how the GRIHA Council evolved during the pandemic to introduce new protocols to combat the challenges of the lockdown. He said, "Now more than ever it is imperative for consumers to realize the benefits of reducing energy and water consumption, managing waste, and capping environmental pollution. We have thus dedicated the year ahead to focus on the theme - 'Restoring Green Economy'." |
Delivering his inaugural address as the Chief Guest, Shri Bhupender Yadav, Minister Environment, Forest and Climate Change & Minister of Labour and Employment said, "There is a need to engage in a sector-wise deep dive to assess the potential of nature- based solutions and green technologies in facilitating a green recovery." He emphasized the need for climate finance for developing countries like India and outlined various steps the Government of India has taken to attain the NDCs.

He further added "India — a country with nearly 1.4 billion people or almost one-fifth of the global population and yet accounting for just 5% of its emissions — is among the few countries in the world on track to meet its climate targets before 2030."
| | |
| --- | --- |
| | Launch of GRIHA Publications |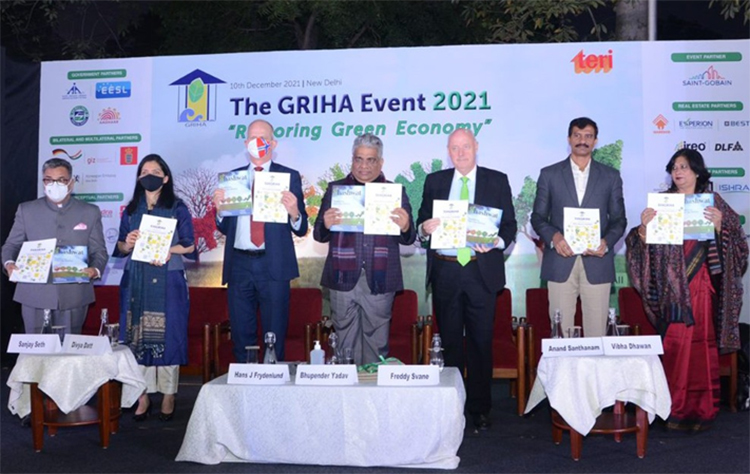 The event saw the launch of the new version of the Simple Versatile Affordable GRIHA rating -SVAGRIHA V3, the new edition of GRIHA Council's Annual Magazine - 'Shashwat - Let Nature Be'
| | |
| --- | --- |
| | An MoU was signed between GRIHA Council and Govardhan Ecovillage, which aims at evaluating and rating the future developments of Govardhan Ecovillage on sustainability parameters, under different GRIHA variants. Additionally, the MoU focuses on co-developing training and capacity building programmes for the youth globally. |
| | | |
| --- | --- | --- |
| HE Hans Jacob Frydenlund, Ambassador, Royal Norwegian Embassy in India, underscored the efforts required to enable developing countries to accelerate their transition to renewable energy, and underlined the ways in which Norway moved to a circular economy. | HE Freddy Svane, Ambassador, Royal Danish Embassy in India, emphasized the need to speed up climate action and to take individual responsibility. "Denmark and India have a Green Strategic Partnership and it is based on five 'S's – scale, scope, skills, speed, and sustainability," Mr Svane added. | Ms Divya Dutta, programme management officer, United Nations Environment Programme, observed that the building sector is looking for "transformational instead of incremental changes". "The building sector is at the front and centre of the climate dialogue today," Ms Dutta added. |
| | |
| --- | --- |
| Mr. Anand Santhanam, National Head – Sales and Marketing, Saint-Gobain India Private Limited, emphasized the need for responsible resource management as a means of resource conservation, for restoring green economy. | Ms. Shabnam Bassi, Secretary and Treasurer, GRIHA Council, delivered the vote of thanks and expressed her gratitude to the esteemed dignitaries, participants, and partners of the GRIHA Event, and the TERI and GRIHA Team for the success of the GRIHA Event 2021. |
| | |
| --- | --- |
| | Glimpses of GRIHA Event 2021 |
28 projects were awarded 5- and 4-star ratings under various GRIHA variants.
| | |
| --- | --- |
| | Glimpses of GRIHA Event 2021 |
GRIHA exemplary awards were granted to recognize the efforts of 18 GRIHA registered projects, that have met sustainability goals and acknowledged their commitment to the cause of sustainable development.

Click here to view- https://www.grihaindia.org/exemplary-performance
| | |
| --- | --- |
| | Felicitation of the GRIHA Sustainability Contest Winner |
GRIHA Council conducted two online sustainability challenges named the 'GRIHA Sustainability Contest' and 'GRIHA Green Quiz' as the exordium of the GRIHA event.
| | |
| --- | --- |
| The sustainability contest was launched to motivate the populace and to come up with ingenious ideas on sustainability for existing small-scale buildings. Esteemed minister, Shri Bhupender Yadav, along with other dignitaries, presented the award to Ms. Mannat Kaur, who was deemed as the winner of the Contest for her simple, low cost and practically implementable idea for greywater treatment. | The GRIHA green quiz was launched to engage with the audience and spread awareness about the theme of the GRIHA Event 2021, 'Restoring Green Economy'. Ms. Yogitha Miriyala, Research Assistant at the Indian Institute for Human Settlements, New Delhi, was the winner of the quiz and was awarded with an appreciation certificate from GRIHA council. |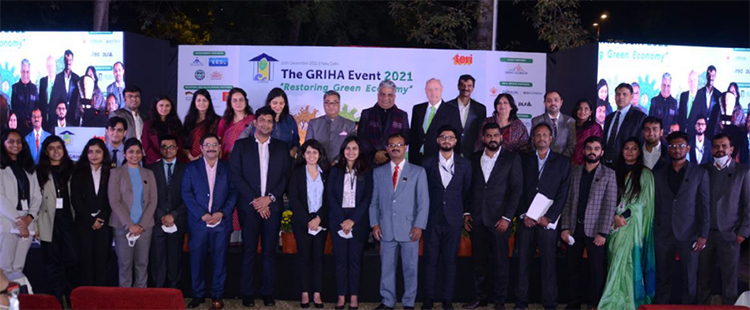 GRIHA Team along with esteemed dignitaries, at the GRIHA Event 2021.
| | |
| --- | --- |
| | 3-Day Training Programme on GRIHA V 2019 |
| | |
| --- | --- |
| | Thanks to our valued Partners |
Copyright © 2021 GRIHA Council
GRIHA Council, Core1B, 3rd Floor, India Habitat Centre, Lodhi Road, New Delhi - 110003
Tel: - (+91 11) 46444500/24339606-08
If you do not wish to receive this newsletter Click here