| | |
| --- | --- |
| GRIHA NEWSLETTER | |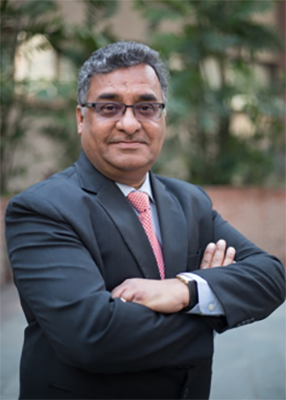 Mr. Sanjay Seth, CEO GRIHA Council
This Earth Day, on 22nd April, GRIHA Council hosted a showcase for the winning entries of "The GRIHA Trophy at the 64th Annual NASA Convention". With an aim of promoting green buildings and sensitizing students towards sustainable design, the GRIHA Trophy aims to inculcate in students awareness about the environment, good practices, climate responsive design, green buildings and innovative technologies. The event was followed by the '4th GRIHA Consultant Meet', wherein practising architects, consultants and other representatives of the green building profession shared their suggestions for the successful delivery of GRIHA rated projects. We are happy to have had such effective engagement with the industry with the Trophy exposing students to industry oriented education and the Meet allowing GRIHA to translate consultant's needs into the organizations goals.

GRIHA Council also recently congregated for the Annual Retreat at Mukteshwar, Uttarakhand. In an eventful two days, the team reflected on attaining last year's goals, deliberated on the way forward and participated together in team building activities. Moving into this financial year, the team is inspired and galvanized with fresh ideas to chart new pathways for a productive year ahead.

The scorching heat wave continues in India and it is evident that the erratic and intense weather can be directly attributed to global warming. The recently released Sixth Assessment Report of the Intergovernmental Panel on Climate Change highlights the severity of the climate change that we face and makes clear that the only alternative is to have all sections of the Government, Civil Society and Private Sector step up together to take urgent measures. Adaption through sustainable strategies and mitigation by drastically cutting carbon emissions is the only way forward and I invite you to join GRIHA as we work towards attaining this shared goal for a healthy planet.
| | |
| --- | --- |
| | Green Building Auditor Programme |
| | |
| --- | --- |
| | GRIHA Empanelled Consultant |
| | |
| --- | --- |
| | GRIHA 3 Star Provisional Rating Awarded to Rajiv Gandhi National Aviation University Academic Block, Fursatganj, Uttar Pradesh |
| | |
| --- | --- |
| | GRIHA Certified Professional Examination on V.2019 in the upcoming months |
| Month | Date |
| --- | --- |
| May | 20.05.2022 |
| June | 17.06.2022 |
| | |
| --- | --- |
| | New Products have been enlisted in the GRIHA Product Catalogue |
IITs, IISc to offer new courses on electric vehicles, IoT, sustainable development through Swayam

The National Programme on Technology Enhanced Learning (NPTEL), a joint initiative of IITs and IISc, has launched new courses on electric vehicles and renewable energy, design for IoT, business and sustainable development, for July 2021 semester through the Swayam platform.

The enrolments for July – Dec 2021 semester have already commenced. The last date to enrol for the first set of NPTEL courses is August 2. The courses are taught by the faculty from IITs and IISc. Learners can enrol for NPTEL courses through swayam.gov.in/NPTEL.

Vignesh Muthuvijayan, NPTEL coordinator at IIT Madras, said, "Students and faculty from these institutions take up NPTEL courses to upgrade their knowledge and skills. Some of the popular courses on NPTEL platform include data science for engineers, courses on programming in Python, C, C++, introduction to machine learning, soft skills, project planning and control, among others."

NPTEL offers certification courses through the MOOCs format. Learners need to watch videos online, submit assignments on a weekly/monthly basis and can register for an optional proctored final exam. There is a nominal fee charged towards the in-person proctored exam for the certification.


Nearly a fifth of reptiles face risk of extinction, says study

Nearly a fifth of all reptile species globally are at risk of extinction, according to a new report. Habitat loss due to agriculture, deforestation and urban development are few of the greatest threats to reptiles all over the world, the report listed.

The authors of the report analysed 10,196 reptile species following the same criteria as the International Union for Conservation of Nature Red List of Threatened Species and found at least 1,829 are threatened. The Global Reptile Assessment was published in the journal Nature April 27, 2022.

Earlier, reptiles were omitted from conservation-prioritisation analyses because of lack of global assessments.

Reptiles are threatened by the same major factors that threaten other tetrapods (a superclass of animals that includes all limbed vertebrates): Agriculture, logging, urban development and invasive species, according to the authors of the report.


How blue economy can help rewrite India's growth story post pandemic

Almost echoing the similar line, the Centre for the Blue Economy says, "It is now a widely used term around the world with three related but distinct meanings — the overall contribution of the oceans to economies, the need to address the environmental and ecological sustainability of the oceans, and the ocean economy as a growth opportunity for both developed and developing countries." The definitions clearly exemplify the writing on the wall and that is acknowledging and practising the 'sustainability' in letter and spirit rather merely as keepsake words.

While the blue economy comprises a range of economic sectors and related policies that together determine whether the use of ocean resources is sustainable, a major challenge it confronts in understanding and managing the many aspects of oceanic sustainability, ranging from sustainable fisheries to ecosystem health to preventing pollution.

Second, as put forward by a finding of the United Nations (UN), "the blue economy challenges us to realise that the sustainable management of ocean resources will require collaboration across borders and sectors through a variety of partnerships, and on a scale that has not been previously achieved. This is a tall order, particularly for Small Island Developing States (SIDS) and Least Developed Countries (LDCs) who face significant limitations."

| | |
| --- | --- |
| | 4th GRIHA Consultant Meet |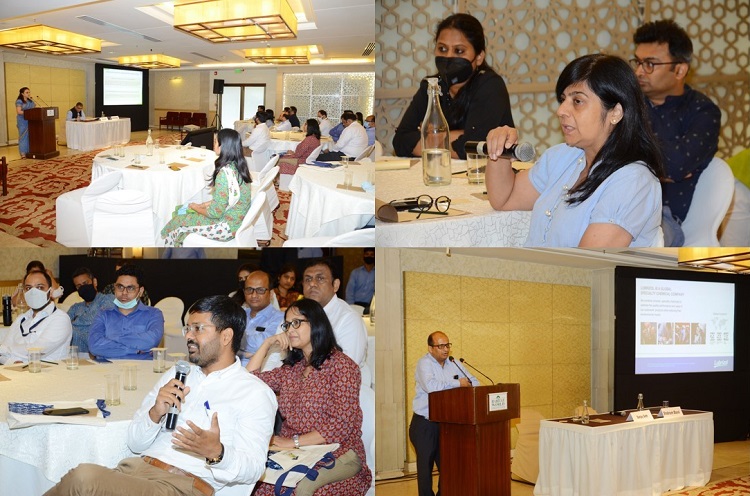 GRIHA Council conducted its fourth GRIHA Consultant meet on April 22nd, 2022 at India Habitat Centre, New Delhi from 14:30 hrs – 17:00 hrs. The meet witnessed a presentation on the past year GRIHA Council developments and activities by Ms. Shabnam Bassi, Secretary and Treasurer, GRIHA Council. In her presentation, Ms. Bassi threw light upon new developments in GRIHA Council during the past financial year, including the introduction of concepts such as Water Performance Index, Life Cycle Costing and Life Cycle Analysis in the GRIHA V 2019; and the launch of new certifications on water positivity, zero waste and carbon neutrality. Additionally, Ms. Bassi shared with the audience, the new JAN GRIHA certification that aims at providing green certification to small scale affordable buildings.

The presentation also covered MoUs GRIHA Council signed with renowned organizations such as the International Copper Association India, Govardhan Eco Village and IIFL Home Finance to encourage research in new concepts of sustainability.

The event was attended by more than 40 green building consultants across India in person and online. It was concluded with meaningful deliberations during an interactive session chaired by Mr. Sanjay Seth, Chief Executive Officer and Vice President, GRIHA Council for the growth and development of GRIHA Council, based on market feedback received by the consultants.

In the interactive session, some crucial points were raised by the fellow consultants, such as organizing more training programs for better adoption of GRIHA V 2019, posting a list of community members such as manufacturers, consultants and architects on an online portal for ease of reachability.

Another important suggestion by the consultants was that dummy project calculators must be provided as open source to judge and evaluate the cost for client, and that all the online calculators should be provided for ease of business. Another crucial suggestion was that the background data considered for LCA and LCC calculation should be available on the online portal. Like past years, this year's consultant meet concluded with meaningful suggestions from the consultants. All suggestions were received with enthusiasm for better implementation of the GRIHA rating in the building industry.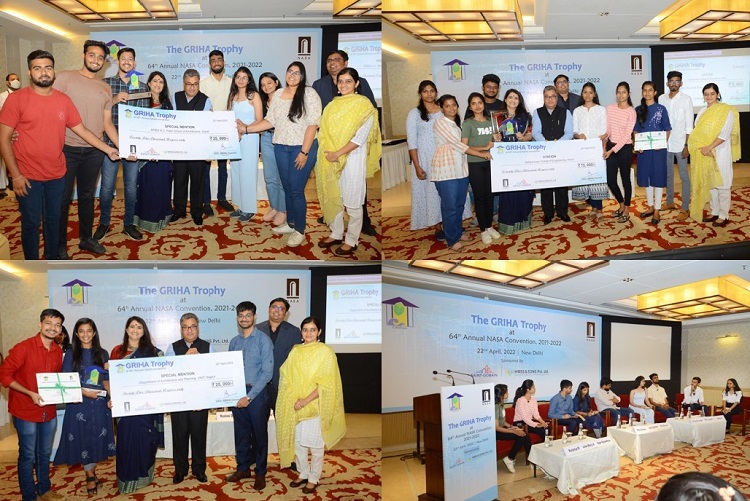 GRIHA Council hosted a showcase for the winning entries of the "GRIHA Trophy at the 64th Annual NASA Convention", on April 22nd, 2022, at India Habitat Centre, New Delhi. The GRIHA Trophy was launched at NASA (National Association of Students of Architecture) in 2013-14, with an aim to jointly promote green buildings and sensitize students towards sustainable design. Each year, unique design briefs are provided to allow students the opportunity to push the limits of their creativity and showcase their skills in designing projects of varying scale and typologies, centric to the concept of sustainability.

The competition brief for this year required the students to design a GST (commercial) building in Ghaziabad in accordance with the GRIHA v2019 rating system. The 2021-22 GRIHA Trophy was supported by MRSS Sons Pvt. Ltd. and Saint Gobain India Pvt. Ltd, and was very well-received with more than 25 entries from all over India. The jury panel included Ms. Trupti Doshi, Principal Architect and Co – Founder, The Auroma Group; Mr. Monish Siripurapu, Founder and principal, Ant Studio; Mr. Venu Gopal, Manager – Design, Saint Gobain India Pvt. Ltd.; Ms. Rashmi Dagar, MRSS Sons Pvt Ltd.; Mr. Akash Deep, Area Convenor and Senior Program Manager, GRIHA Council; and Mr. Ankit Bhalla, Deputy Manager, GRIHA Council.

The event was graced by hon'ble chief guest - Ar. Sapna, Vice-President, Council of Architecture & Chief Architect, Department of Architecture, Punjab. Design entry of Adhiyamaan College of Engineering, Hosur was declared the winner followed by three special mentions – APIED D.C. Patel School of Architecture, Gujarat, Priyadarshini Institute of Architecture, Deapartment of Architecture and Planning, VNIT, Nagpur & Design Studies, Nagpur.

The felicitation ceremony was preceded by a panel discussion on Life Cycle Costing analysis for building design, chaired by Ar. Monish Siripurapu. The event was very well received and witnessed great enthusiasm by the student community.
| | |
| --- | --- |
| | One Day Training programme at University Institute of Architecture, Chandigarh University |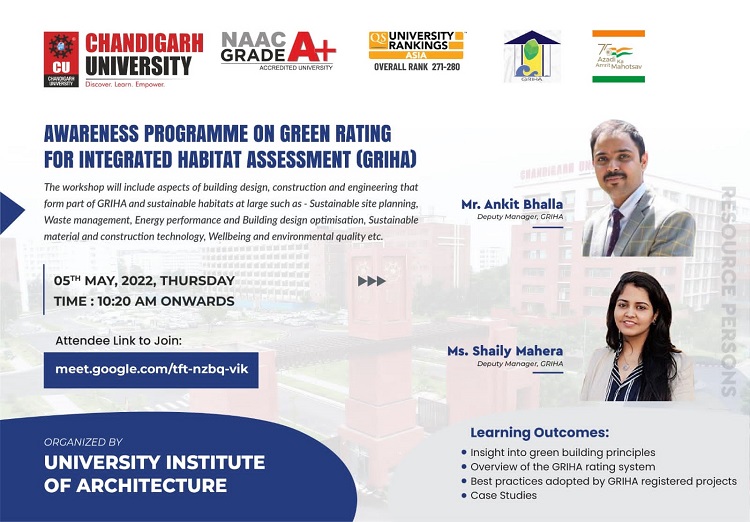 An online GRIHA awareness programme was organized by the University Institute of Architecture, Chandigarh University in association with GRIHA Council on 5th May, 2022 from 10:20 am to 12:50 pm. The workshop aimed at familiarizing the students with the GRIHA rating system so that they can implement the knowledge in their academic projects and further in their career. The workshop included all aspects of building design, construction and engineering that form part of GRIHA and sustainable habitats at large such as - Sustainable site planning, Water and wastewater management, Building design optimization, Energy performance optimization, Renewable energy utilization, Solid waste management, Sustainable building material and construction technology and Health, wellbeing and environmental quality. The programme was well received with the participation of about 150 students.
| | |
| --- | --- |
| | Guidelines for Water Efficient Measures for Residential Townships |
Copyright © 2022 GRIHA Council
GRIHA Council, Core1B, 3rd Floor, India Habitat Centre, Lodhi Road, New Delhi - 110003
Tel: - (+91 11) 46444500/24339606-08
If you do not wish to receive this newsletter Click here