Introduction
In commitment to the vision of our Honourable Prime minister, GRIHA Council has initiated a drive towards a zero-carbon mission "Decarbonizing Habitat Program". This program would enable an organization/ company/ industry to estimate its current carbon footprint and adopt cost effective strategies that will help in reducing the footprint in the future.
Eligibility
Projects operational for over a year with existing infrastructure and permanent employees will be eligible for the certification.
Certification Fees
Healthcare Facility/Hospitality/Retail/Transit Terminal/Industries
Institutional/Office/Residential
BUA
Certification Fee
Certification Fee
INR
USD
INR
USD
Up till 2,500 sqm
5 lakh
7000/-
3.5 lakh
6000/-
2,501-5000 sqm
6.5 lakh
9000/-
5 lakh
7500/-
5,001-10,000 sqm
8 lakh
11,000/-
6.5 lakh
9000/-
For every sqm above 10,000 sqm
7.5/sqm
@1/sqm
7.5/sqm
@1/sqm
Note: Projects with BUA above 1.5 lakh m2 – special fee on request to GRIHA Council
*Exclusive of government taxes
Note: All travel and accommodation of GRIHA Council professionals is not included in the above cost and shall be arranged by the project proponent.
Certification Process
1. Registration: The project can be registered by filing expression of interest (EOI) available on GRIHA website.
2. Orientation Workshop: A handholding workshop will be conducted by GRIHA Council. The intent of this workshop shall be to address specific queries of project proponent on the GRIHA 'Decarbonizing Habitat Programme'.
3. Data Collection:
Survey form to be filled by the project proponent
Simultaneously project team should initiate collating the data for assessment and reporting.
Post data collection, project proponent should prepare the report indicating the various parameters and the measures taken by the project and calculated GHG emissions as per the GRIHA 'Decarbonizing Habitat Programme'.
4. Third Party Assessment: Subsequent to the online submission of documents, a committee review meeting will be carried out by a team of experts from GRIHA Council and 3rd party evaluators. The documentation must be complete in all respects for all attempted parameters. Any attempted parameter with incomplete documentation shall not be evaluated.
5. GHG Reporting: An evaluation report consisting of the result, as per the carbon level achieved by the project shall be released by GRIHA Council.
6. Issue of Certificate: The carbon level achieved will be documented in the form of a certificate, report and plaque which will be handed over to the project team.
Assessment Criteria:
The carbon assessment would be conducted for the following parameters.
Water (sources and offset)
Energy (sources and offset)
Waste (sources and offset)
Transportation (commuting and logistics)
Social (cosmetics, stationary, green policy, housekeeping, tobacco control, furnishing, fertiliser, biodiversity).
Lifestyle (clothing, food & beverages, health, cutlery)
Evaluation would be based on the carbon emissions of the project and the measures adopted for carbon sequestration. The modes of sequestration considered for the purpose of evaluation are:
1. Tree plantation
2. Forest cover area
3. Farmlands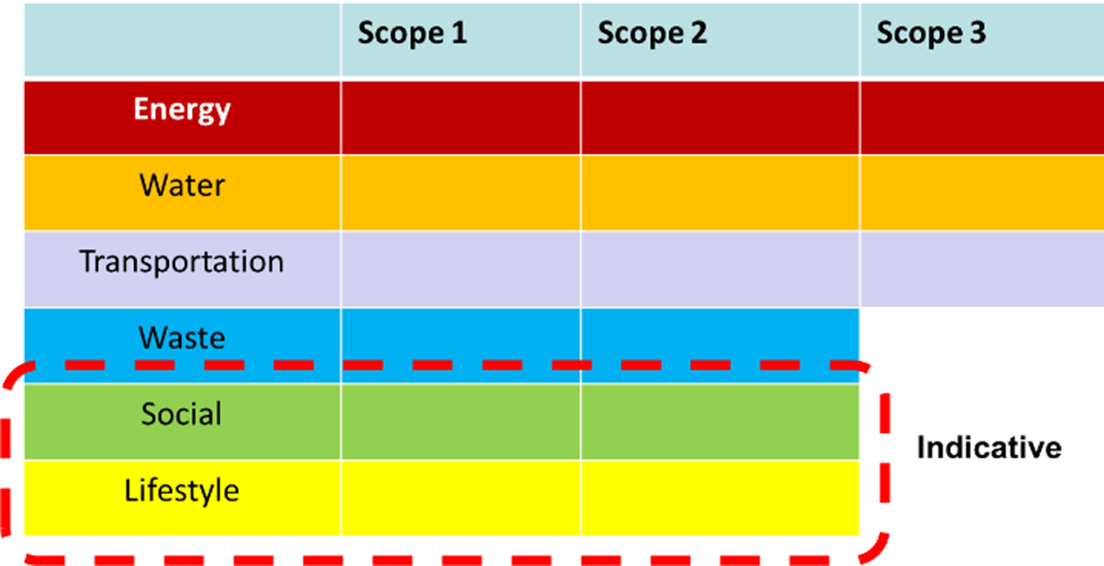 Certification Scale
The project would be evaluated on a scale of 0 to 1+.
Certification Level
Scale
Red
high carbon emission
0.2
Orange
moderate carbon emission
0.4
Yellow
low carbon emission
0.6
Green
towards carbon reduction
0.8
Blue
near net zero
0.95
Indigo
net zero
1
Violet
net positive
1+