Webinar
GRIHA Council conducts awareness workshops/training program on Green Buildings and GRIHA rating system. To make the information readily accessible and available for our clients, consultants, construction industry officers and general public, GRIHA Council has started a series of webinar.
Webinar are web-based seminar, a presentation, lecture, workshop or seminar that is transmitted over the web. Webinar helps to make these sessions interactive by the ability to give, receive and discuss information.
---
Tiscon eAsk Expert Webinar held on 25th June 2021
A webinar, 1st in the series of the Tiscon eASK EXPERT webinar series from Tata Tiscon was held on 25th of June 2021. Er Akash Deep, Senior Program Manager, GRIHA Council spoke about "Simple and Efficient Techniques to Conserve Water at Home".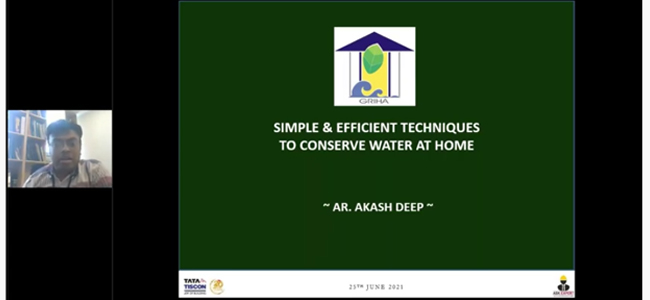 Webinar on Green Buildings - The GRIHA Way held from 31st May to 4th June 2021
Green Buildings - The GRIHA Way was held from 31st May to 4th June 2021. It was a 15-hour training and awareness online program spread over 5 days, which included sessions on all aspects of building design, construction, and engineering that form part of GRIHA and sustainable habitats at large such as - Sustainable site planning, Water and wastewater management, Building design optimization, Energy performance optimization, Renewable energy utilization, Solid waste management, Sustainable building material and construction technology, and Health, well being, and environmental quality, etc.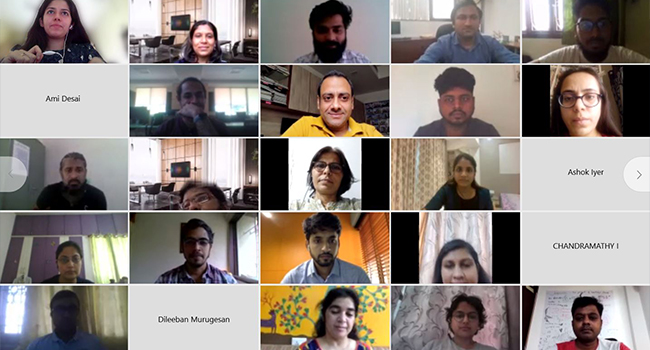 The aim of the program was to empower the participants through a comprehensive understanding of the GRIHA rating system and to enable them to use GRIHA as a tool to ensure easy and effective integrated design and planning solutions. It was conducted especially for faculty in the field of Architecture who can then become instrumental in inspiring young minds to design sustainable buildings.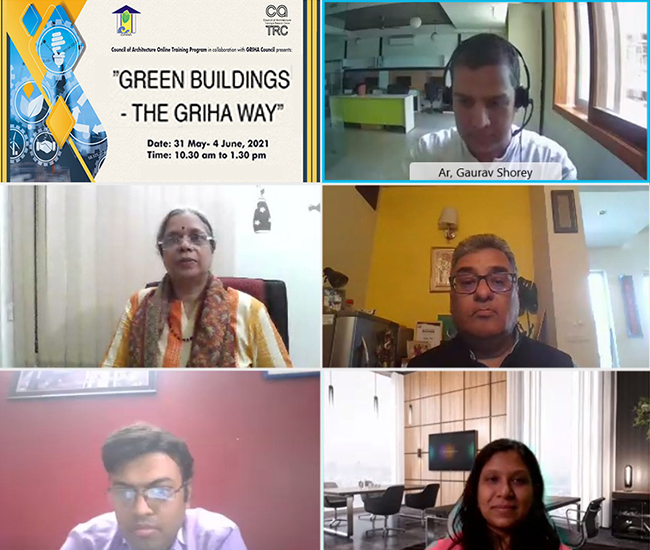 This online event, a first-of-its-kind collaboration between the Council of Architecture Training & Research Centre and the GRIHA Council, was well-received. With over 200 participants, this successful workshop included interactive presentations, a demonstration of daylight simulation software, a quiz, and a design-based assignment.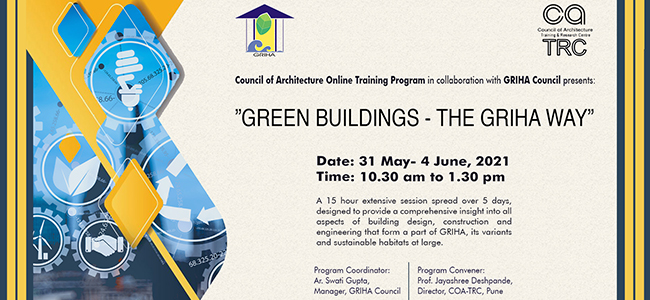 Interview with Daniel Christian Wahl
In this conversation with GRIHA Council, Daniel Christian Wahl shares insights into regenerative cultures, traditional ecological knowledge, biomimicry and its connection with regenerative economy, eco-literacy, and more.
Daniel originally trained as a biologist, and holds degrees in Biology (BSc Hons, University of Edinburgh), Holistic Science (MSc, Schumacher College) and Natural Design (PhD, University of Dundee). He was the director of Findhorn College between 2007 and 2010, is a member of the International Futures Forum and H3Uni, an advocation partner of r3.0, and on the advisory councils of Ecosystems Restoration Camps, Commonland, the Ojai Foundation, Future Planet Europe, the Centre for the Future and the Overview Institute of Australia. He is also a Findhorn Foundation Fellow.
Daniel lives in Majorca where he helped to set up SMART UIB and works locally and internationally as a consultant, educator and activist. Among his clients have been Ecover, Forum for the Future, Camper, Balears.t, Save the Med, Lush, UNITAR, UK Foresight, Cloudburst Foundation and many universities and N.G.O.s. He is on the academic working group of the Global Ecovillage Network and has been linked to GEN for almost 20 years. Daniel has worked closely with Gaia Education since 2007 and contributed to the development of their Design for Sustainability online course and co-authored the current versions of all four dimensions of the curriculum. He also wrote the content and developed the concept of Gaia Education's SDGs Flashcards which with the support of UNESCO are now translated into 7 languages. Daniel teaches regularly on the MA in Ecological Design Thinking at Schumacher College. Daniel's 2016 book 'Designing Regenerative Cultures' has quickly gained international acclaim, his Blog on Medium is followed by over 20k people and his social media advocacy has a combined audience of over 450k people around the world.
Highlights of the interview will be published in the 7th issue of GRIHA's annual magazine- Shashwat, Let nature. The magazine will be released during the Annual GRIHA Summit being held virtually on the 15th and 16th of December 2020. Please find more details about the event at: https://www.grihaindia.org/grihasummit
GRIHA Virtual Conference - 21st to 25th July 2020
GRIHA (Green Rating for Integrated Habitat Assessment) Council is organizing its first ever GRIHA Virtual Conference. The event has two aspects to it – the exhibition and the conference.
The exhibition will be held from 21st July to 25th July, 2020 and the conference will take place parallelly from 21st July to 24th July, 2020. In these difficult times, an opportunity has been created for the various stakeholders working in the sustainability sector to disseminate information about the benefits, specifications and sustainability features of the respective technologies, solutions, research, products and much more through this platform.
We, in turn, hope that it will provide industry stakeholders an insight to the green building product manufacturers, research organizations, builders, architects, institutes working towards meeting SDG's goals. Agenda
Key takeaways
Day 1 – Inaugural Session: GRIHA Virtual Exhibition & Conference
Inauguration of the GRIHA Virtual Exhibition (21 st July 2020)
About GRIHA Product Catalogue Brochure
Sessions by industry experts like Mr. Shailesh Agarwal (BMTPC), Dr. Alka Bhargav (Department of Agriculture Cooperation and Farmers Welfare), and other dignitaries.
Walkthrough of stalls in the exhibition, which will include multiple leading product manufactures, solution providers, etc.
Day 2 – Virtual Case Study Tour: Bamboo Research & Training Centre, Chandrapur
Virtual site visit of 'Bamboo Research & Training Centre, Chandrapur'.
Presentation by BMTPC and Armacell
Day 3 – Interview Session: With Prof. Deo Prasad, UNSW & Ar. Parul Zaveri
A conversation with eminent architect Ms. Parul Zaveri from Abhikram Architects and Prof.
Deo Kumar Prasad on importance of implementing Sustainability post COVID-19 times.
Presentation by Hindware and USG Boral.
Day 4 – Panel Discussion: Commercial Solar Rooftops
A Panel discussion on Commercial Solar Roof-tops with REC.
Presentation and launch of new product by Modiguard
Presentation by STO.
Watch Videos
---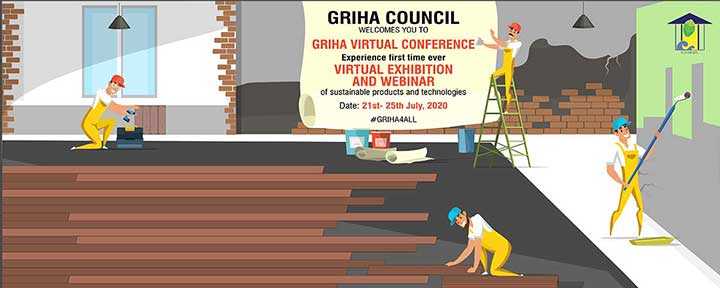 Webinar on GREEN Buildings and GRIHA v.2019 - In association with ISHRAE Lucknow Subchapter and ISHRAE Delhi Chapter
GRIHA Council conducted a webinar on "Green Buildings and GRIHA v.2019" in association with ISHRAE Lucknow Subchapter and ISHRAE Delhi Chapter on July 3, 2020 from 3:30 pm to 5:30 pm. The intent of the webinar was to disseminate information amongst participants about green buildings and the new version of the GRIHA rating, its process, structure, sections and criteria for better understanding.
The presentation focused on the changes that have been incorporated in GRIHA v.2019 to account for the on-going advancements in the highly dynamic construction sector. It also gave the participants an overview of the newly integrated concepts like life cycle cost analysis, life cycle analysis, and water performance index to name a few.
The webinar was attended by more than 90 participants and was very well received.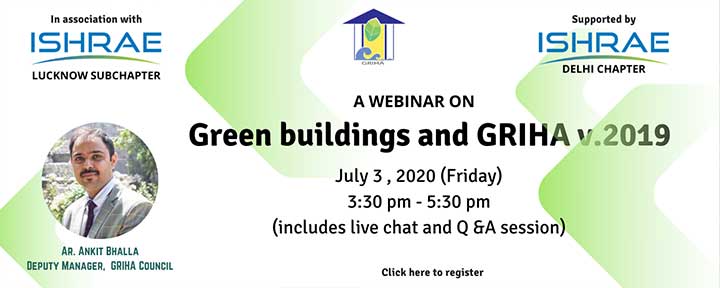 Webinar: GRIHA Council celebrates World Environment Day 'Healthier Environment' - 5th June 2020
To celebrate the World Environment Day, GRIHA Council conducted a webinar on June 5, 2020 from 2:00pm to 3.00pm.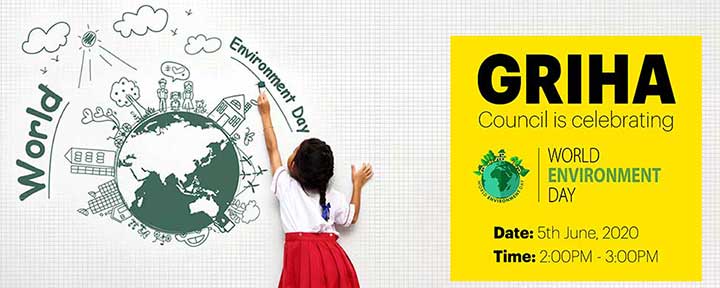 Webinar on GRIHA Case Studies - 28-29 May 2020
Webinar for students on Way forward for Schools Post Lockdown - 15th May 2020
GRIHA Council is conducting a webinar for students on 'Way forward for Schools Post Lockdown' on May 15, 2020 from 11:00 AM to 12:30 PM IST.
Learning Outcome
Operational Guidelines for schools to function post lockdown to contain CoVID-19
Case studies of Sustainable Schools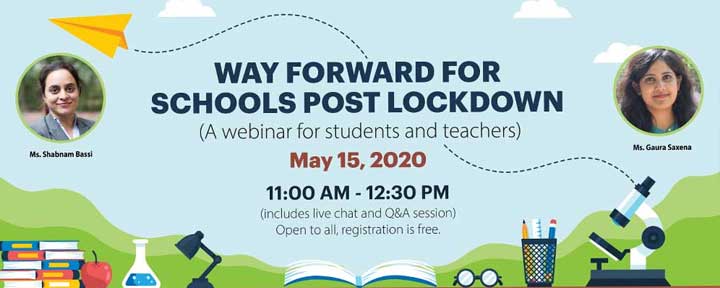 Webinar for students on 'Green buildings – The GRIHA way' - 1 May 2020
A webinar "Green buildings- The GRIHA way" was conducted on May 1, 2020 from 4 pm to 5:30 pm. The webinar was conducted specially for the students of academic institutions to create awareness about green buildings and GRIHA rating system.
Learning Outcomes of the webinar:
About GRIHA Rating System
Case studies of the GRIHA rated projects
Daylight area calculation
Effective SHGC calculation of fenestration
EPI and water calculations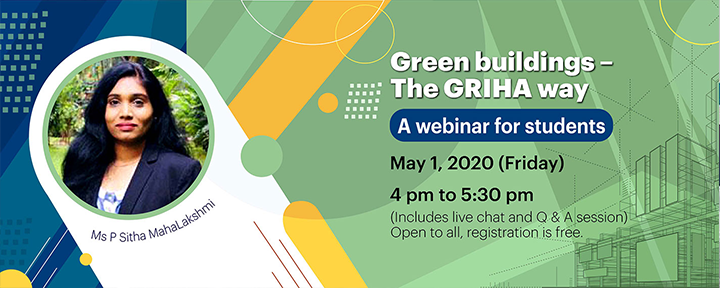 Webinar on Building Fitness Indicator (BFI) - A social initiative of GRIHA Council - 28 April 2020
GRIHA Council conducted a webinar on 'Building Fitness Indicator (BFI) - A social initiative of GRIHA Council' on April 28 (World Day for Safety and Health at Work), 2020 from 11:00 am to 12:00 pm.
Learning Outcomes of the webinar:
Getting to know about the measures to take at workplace post lockdown.
In detail understanding the precautionary and planning measures to fight COVID-19.
Hands on experience of the tool which will allow the organization to measure the preparedness towards the workplace and for the workforce.